donata
Georgia travel report, part III: Classic Georgia
Georgia draws its fame (for a given value of "fame") from two facts: the invention of wine (I bet you didn't know that) and having been the second country ever to become Christianised.
R. and I had read that, when entering a church, females are supposed to cover their heads and shoulders. And so, whenever we were about to enter a church (of which there are many), we pulled on t-shirts over our spaghetti-strap tops and put on a sun hat (me) and a baseball cap (R.). After a while, it became apparent that not every woman took the whole covering-her-head business all that seriously, and those who did used a light scarf for covering purposes. I therefore suggested that we stopped doing it, because, due to our eccentric headgear, it rather looked like we were taking the piss. And whilst I'm the first one to admit that I do take the piss out of religiousness behind religious people's backs, I usually try to not actively troll their houses of worship.
In any case, the covering of random body parts on entering sacral buildings is one of the more baffling aspects of religion (of which there are many). Was god* really that pissed when he created the human body that he now can't stand looking at it? Surely, after several thousand years he should have come to terms with hair and shoulders. (Apart from shoulders, obvsly, which clearly are the work of Satan* and should be burnt at the stake. If only we didn't need the pesky things to stop our arms falling off.)
*I typed this text in WORD, and learned that the spellcheck does not require 'god' to be capitalised, but it does require 'Satan' to be capitalised. Oh, the liberal agenda!
Tbilisi has a lot of churches, and we visited many of them during our 10-hour stroll through the city.
This is the
Anchiskhati Basilica
, the oldest surviving church in Tbilisi: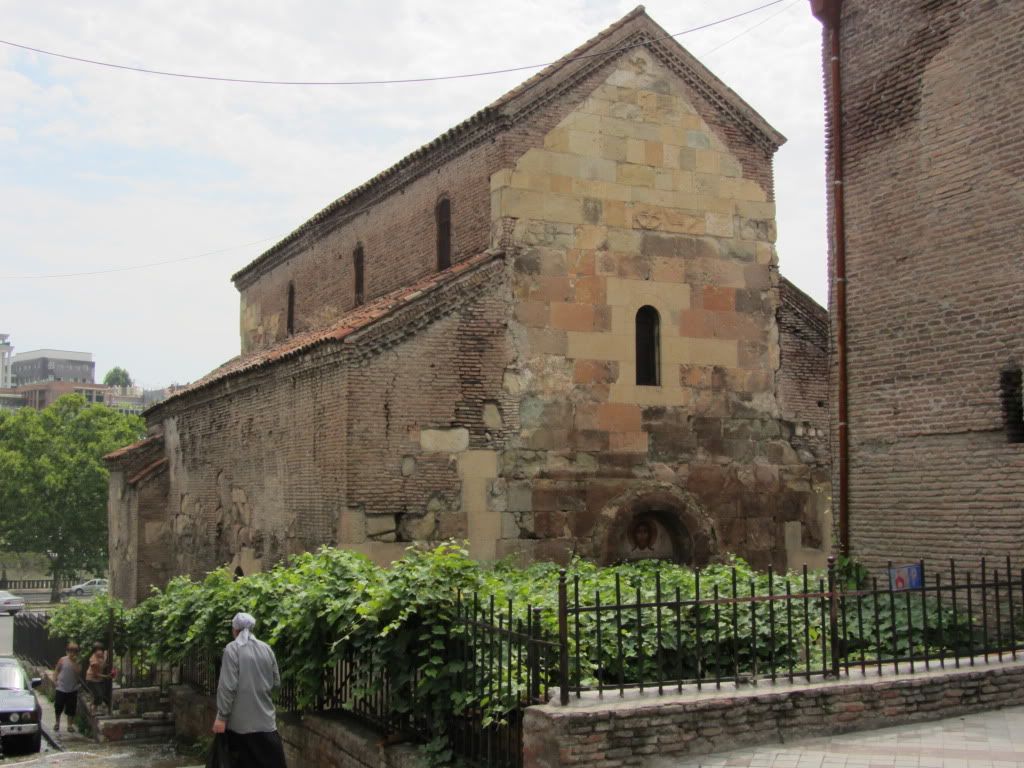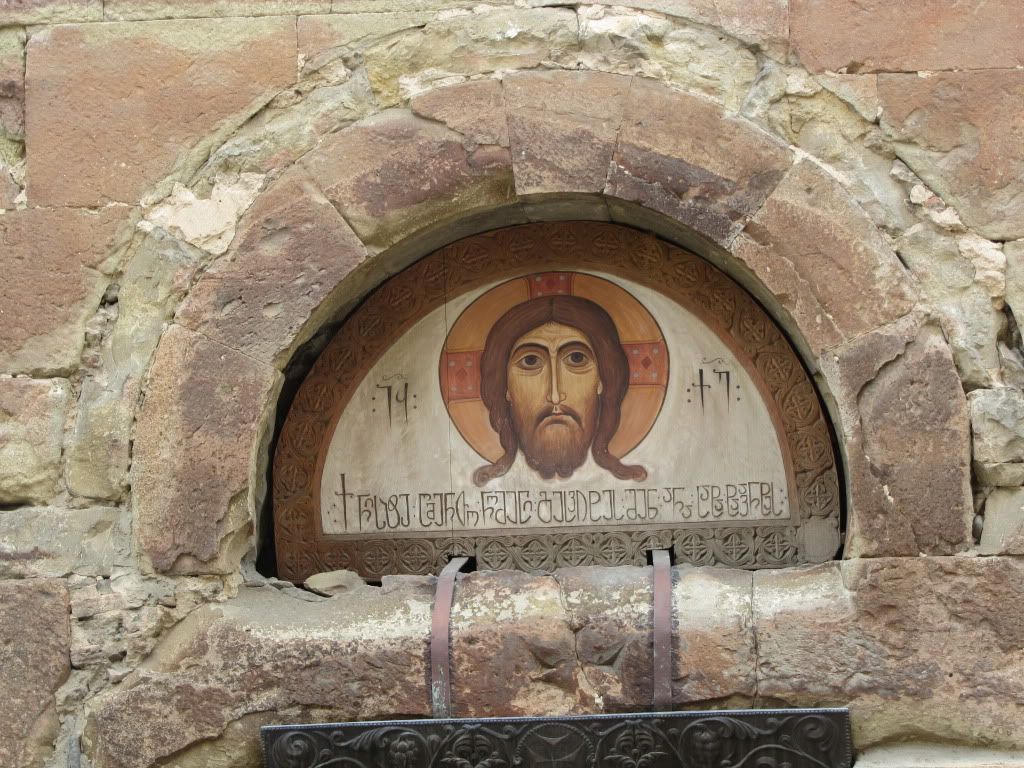 And this is the brand-new
Holy Trinity Cathedral of Tbilisi
- according to our travel guide, the largest sacral building in Transcaucasia. It is also rather ugly, especially from the inside.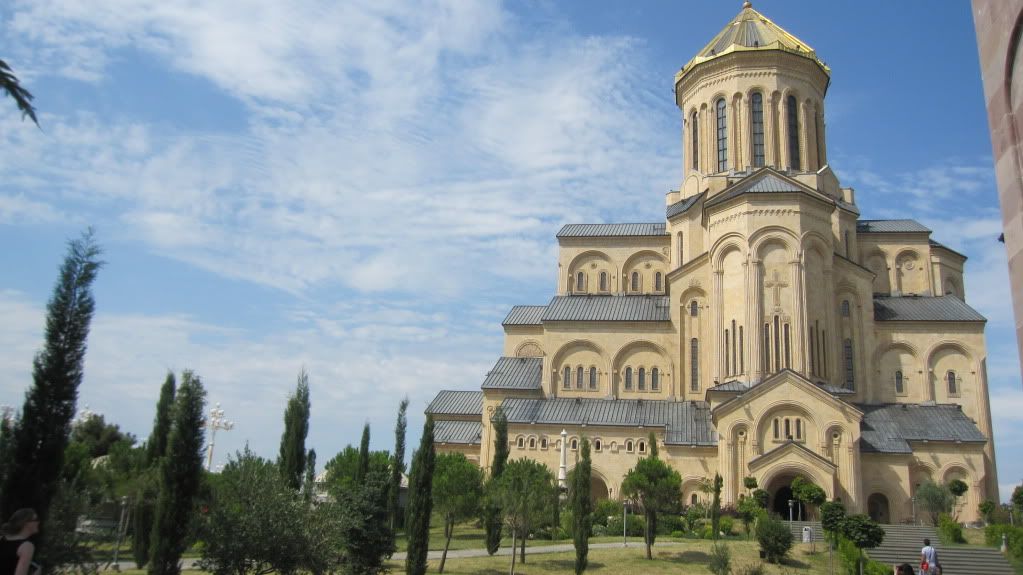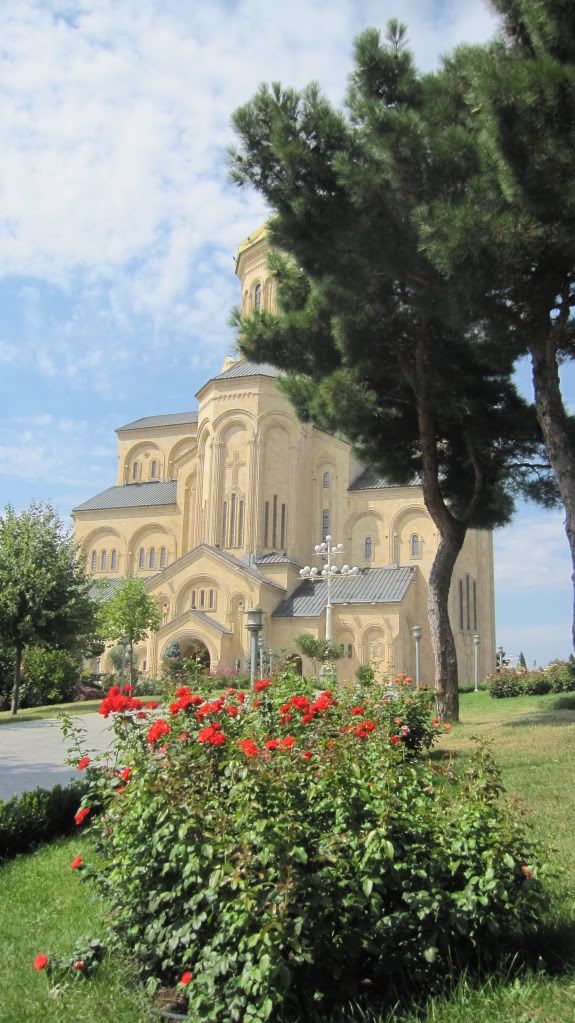 As far as secular buildings are concerned, art nouveau is a key feature: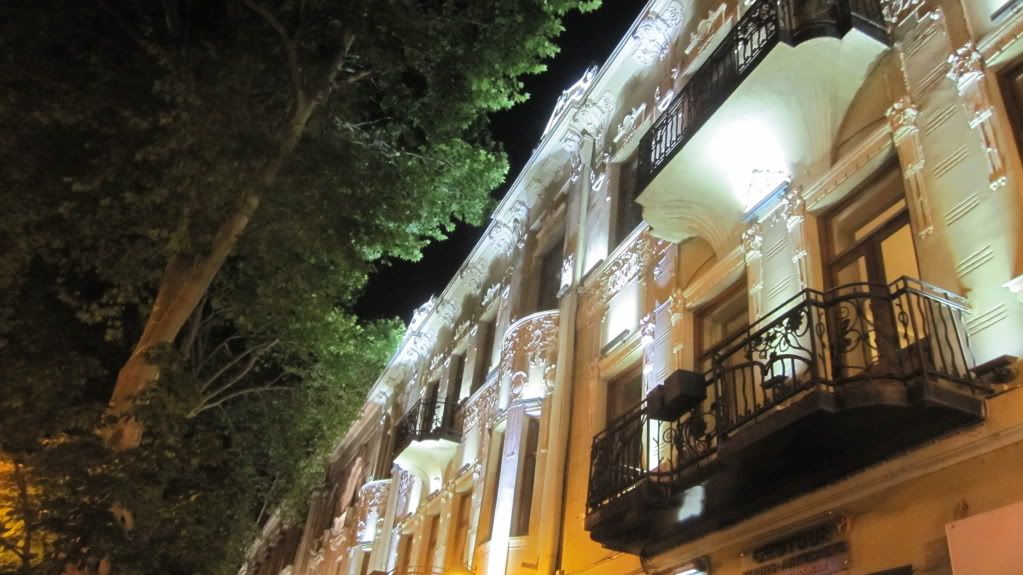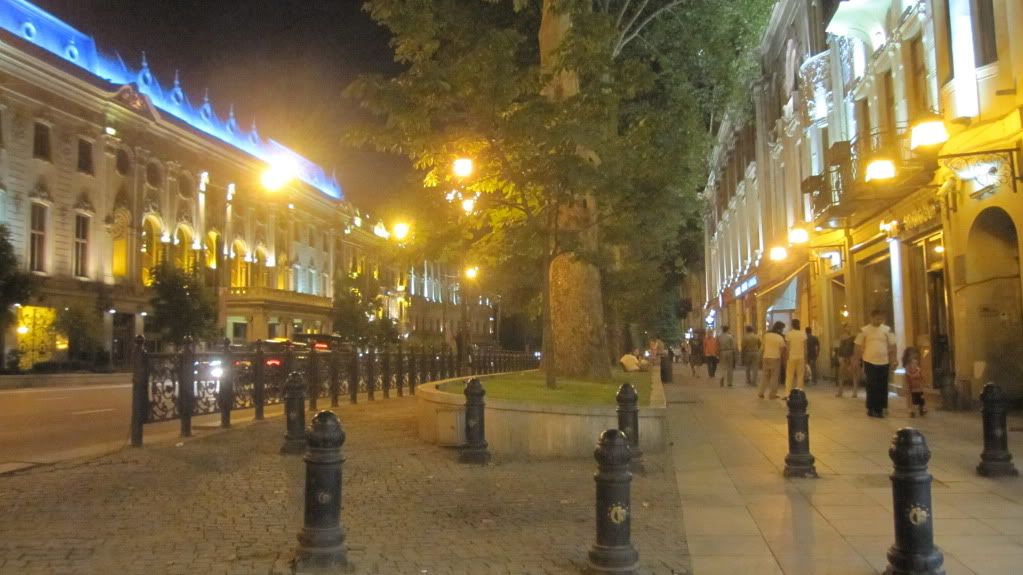 This is the
Rustaveli Avenue
- the city's cultural and commercial artery.
Other architectural highlights include: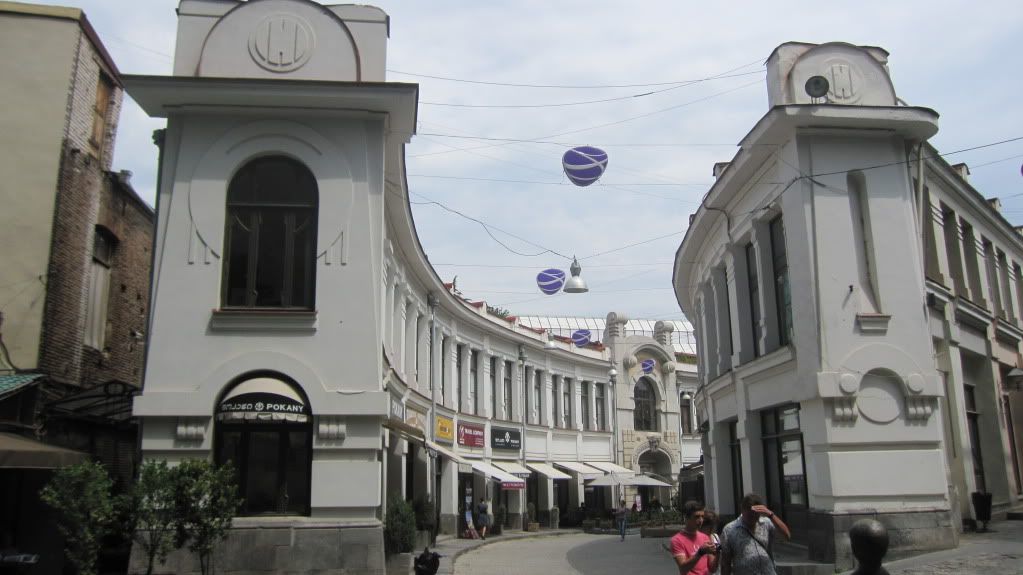 The shopping mile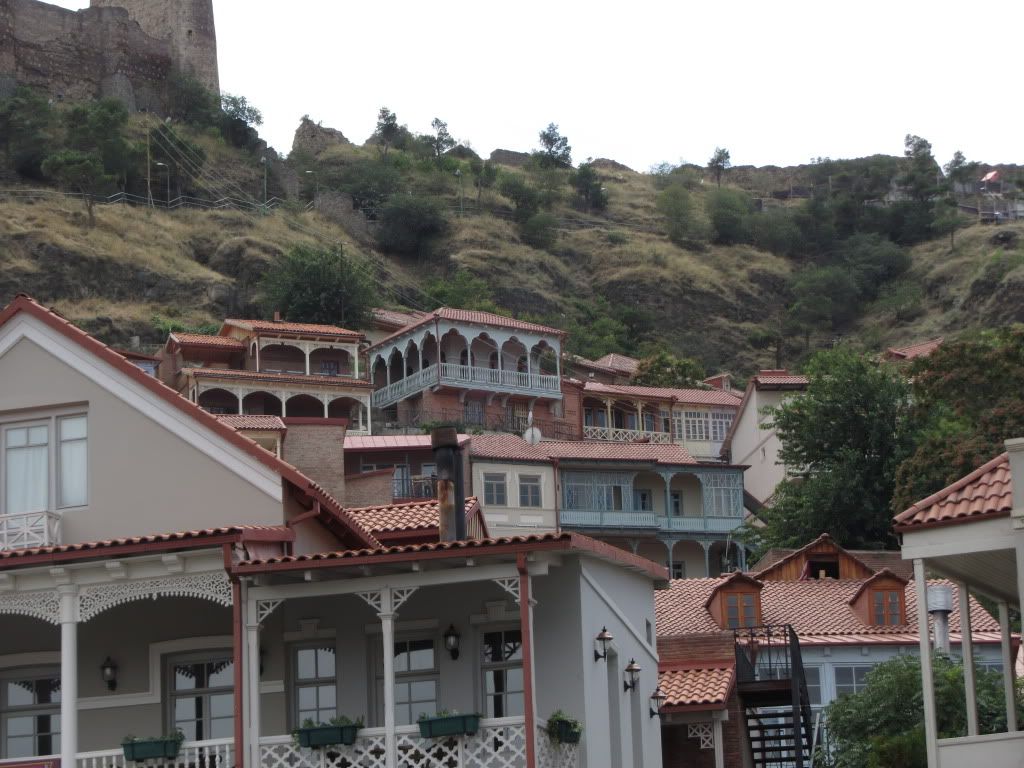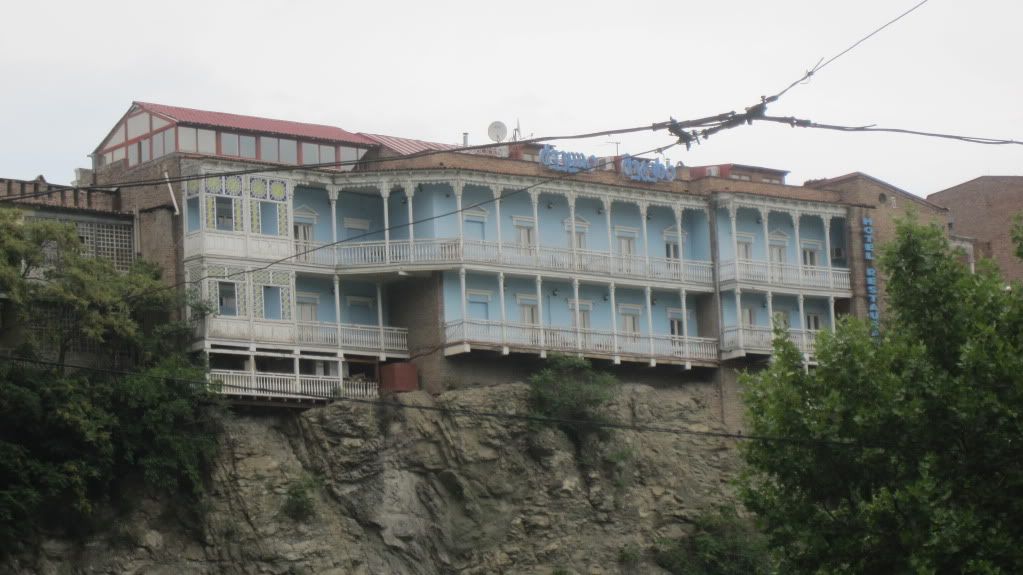 Balconies and carvings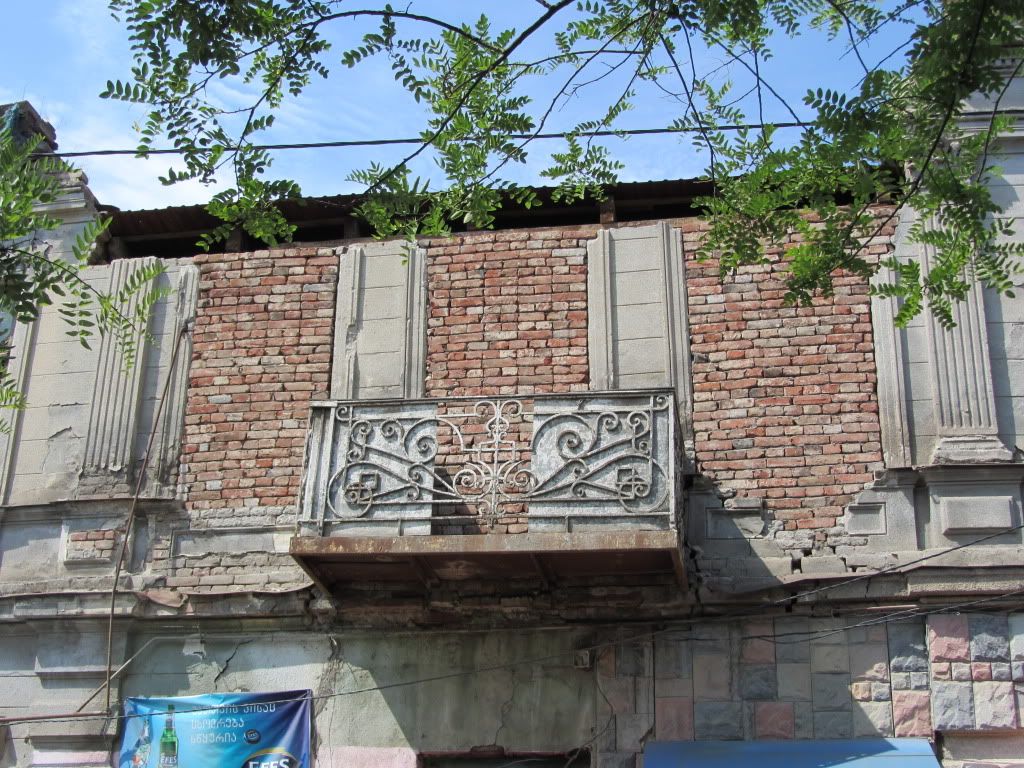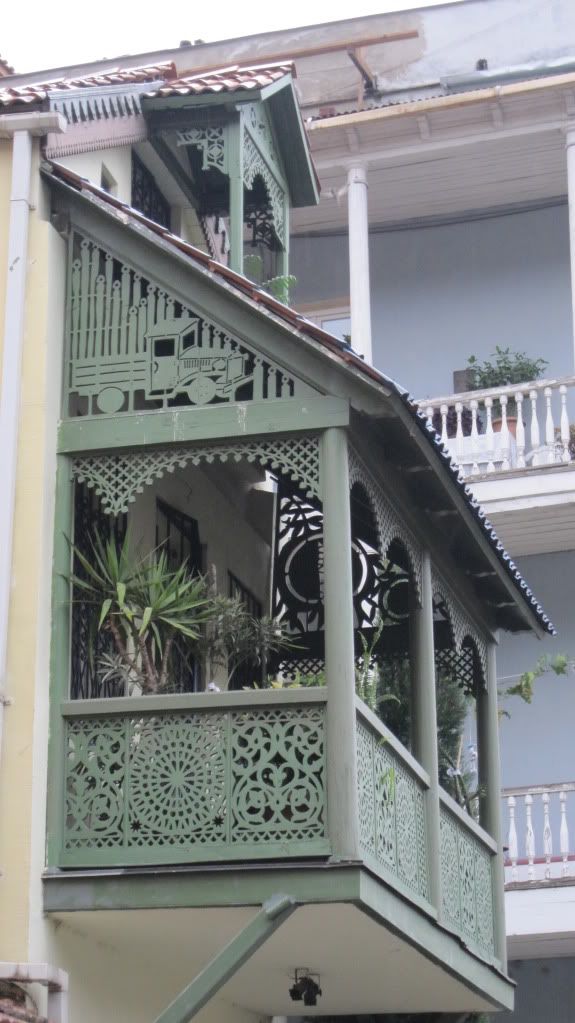 Check out the motif in the last carving. Seriously.
Tbilisi suffered a lot of damage due to earthquakes in the last decade and many houses are utterly dilapidated.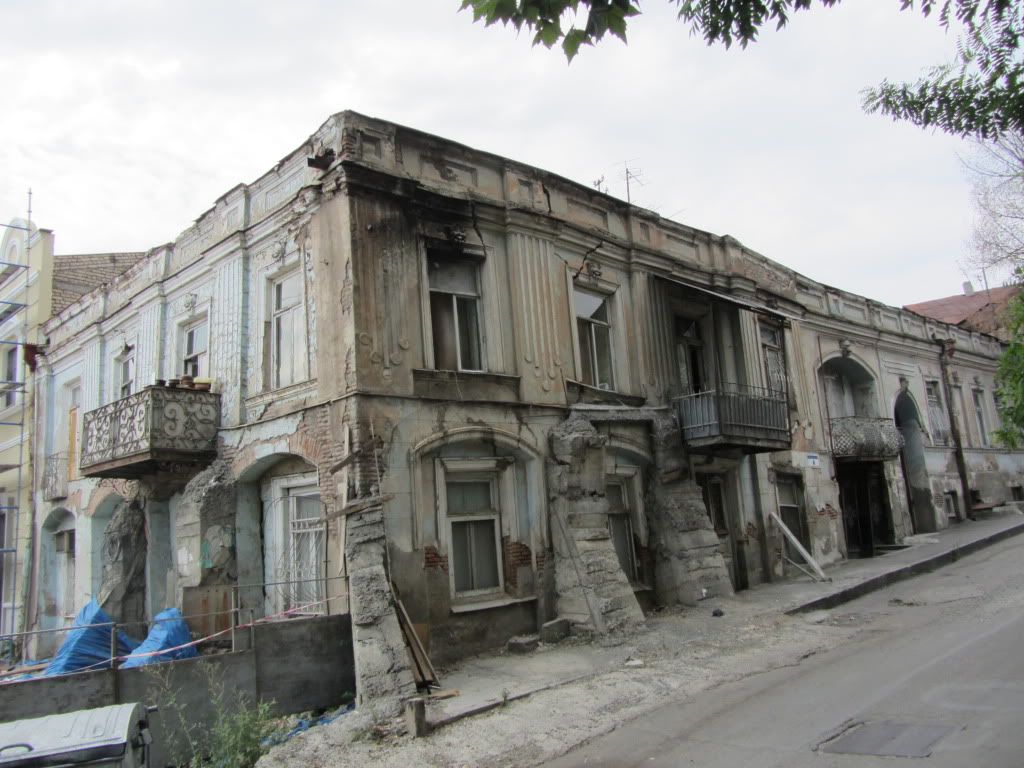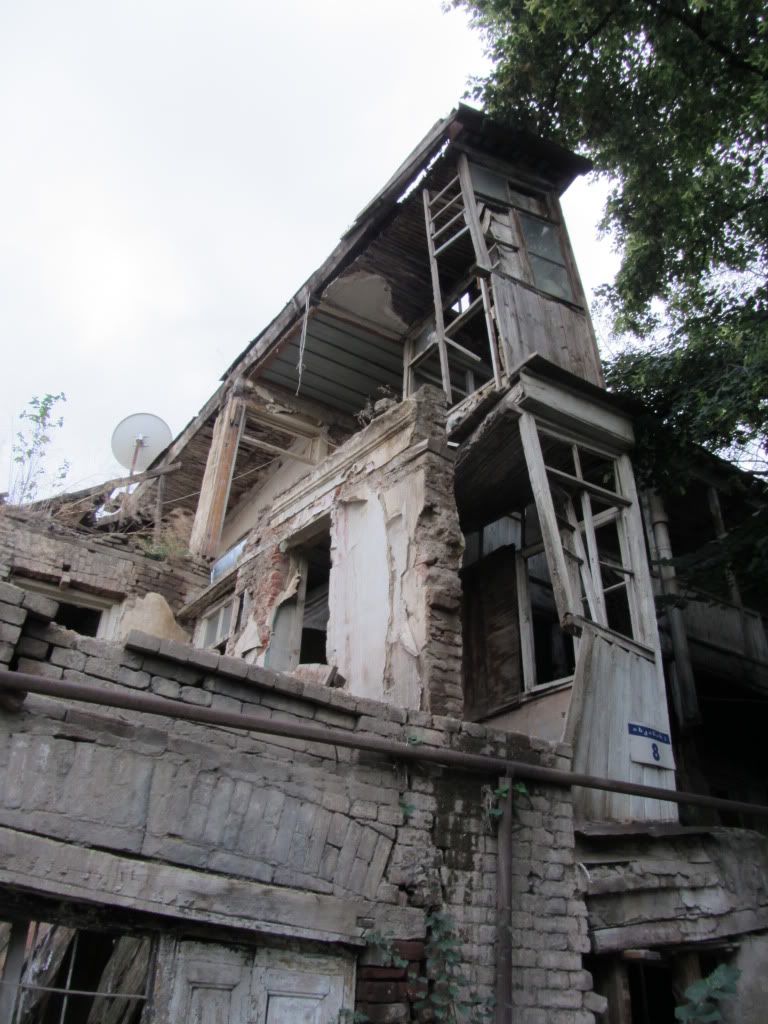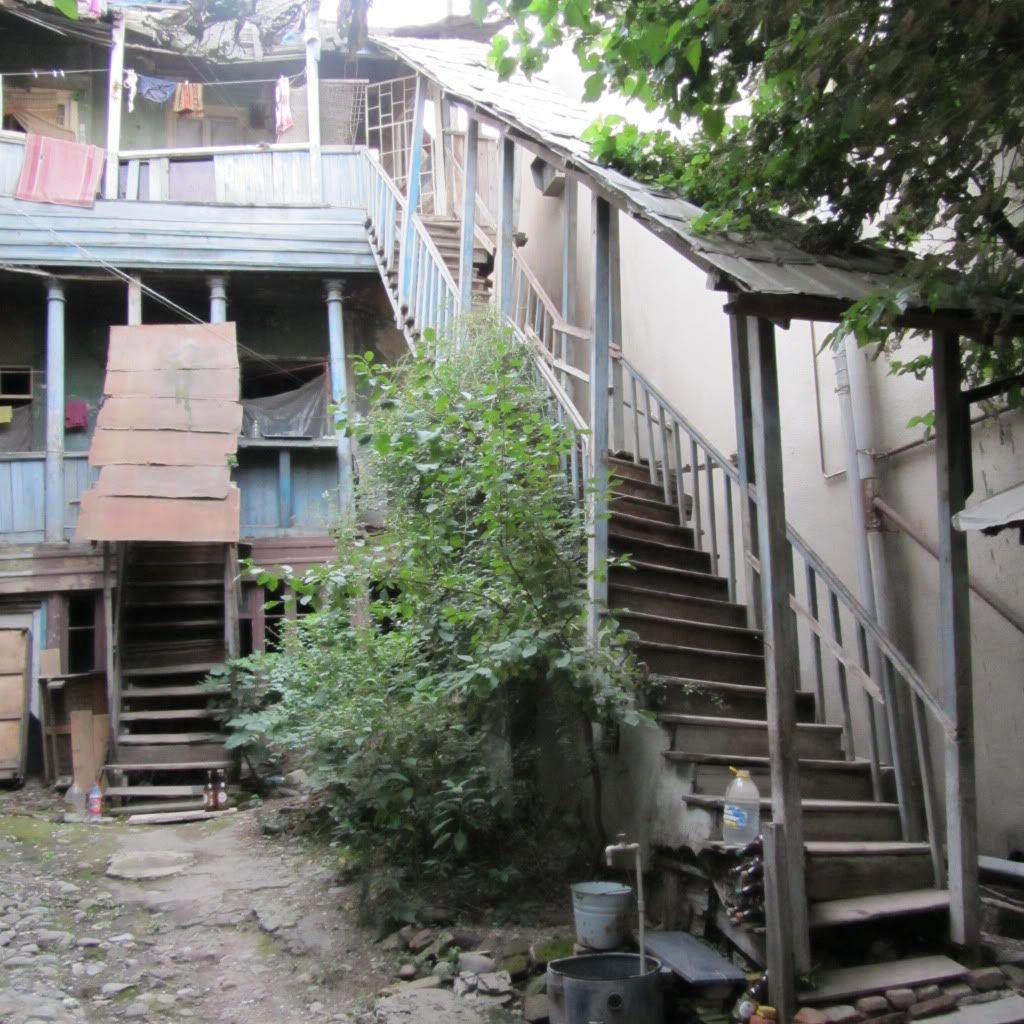 But still inhabited, of course
I have outlasted all desire,
My dreams and I have grown apart;
My grief alone is left entire,
The gleamings of an empty heart.

The storms of ruthless dispensation
Have struck my flowery garland numb,
I live in lonely desolation
And wonder when my end will come.

Thus on a naked tree-limb, blasted
By tardy winter's whistling chill,
A single leaf which has outlasted
Its season will be trembling still.
- Alexander Pushkin, elevating the
melancholy of the Russian soul
to worldwide fame
Over the city towers the
Mother of Georgia
:
Who carries a sword, a bowl and a smirk. The sword is for enemies, the bowl, filled with wine, is for friends, and the smirk is for everyone.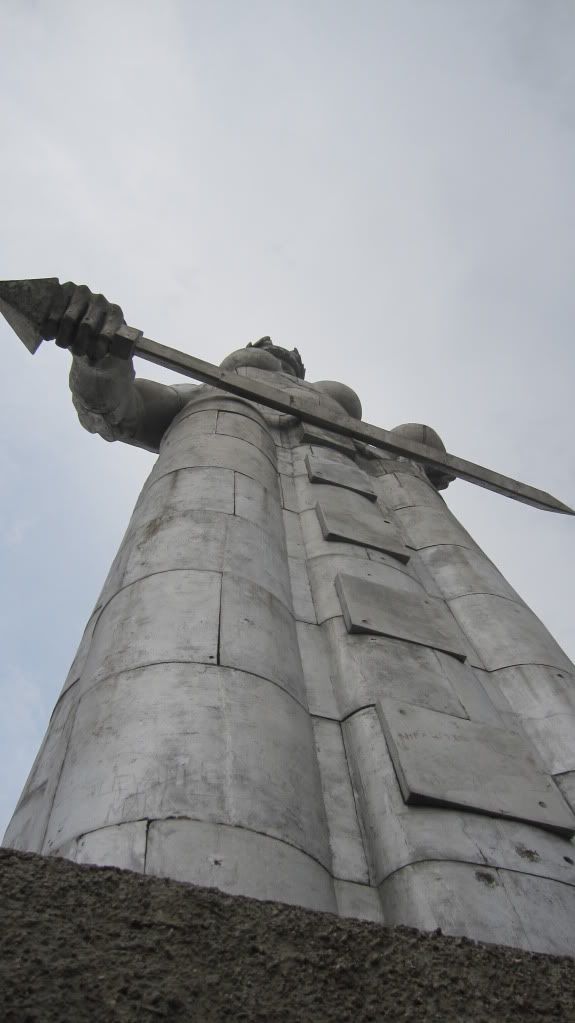 To get this close, one has to climb these stairs: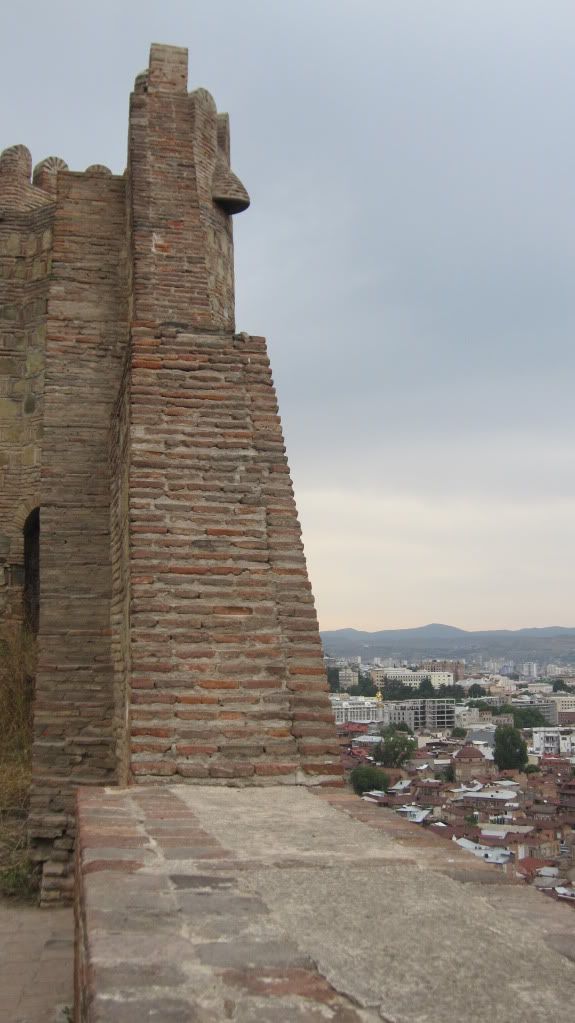 Don't see any stairs? I assure you, they are there: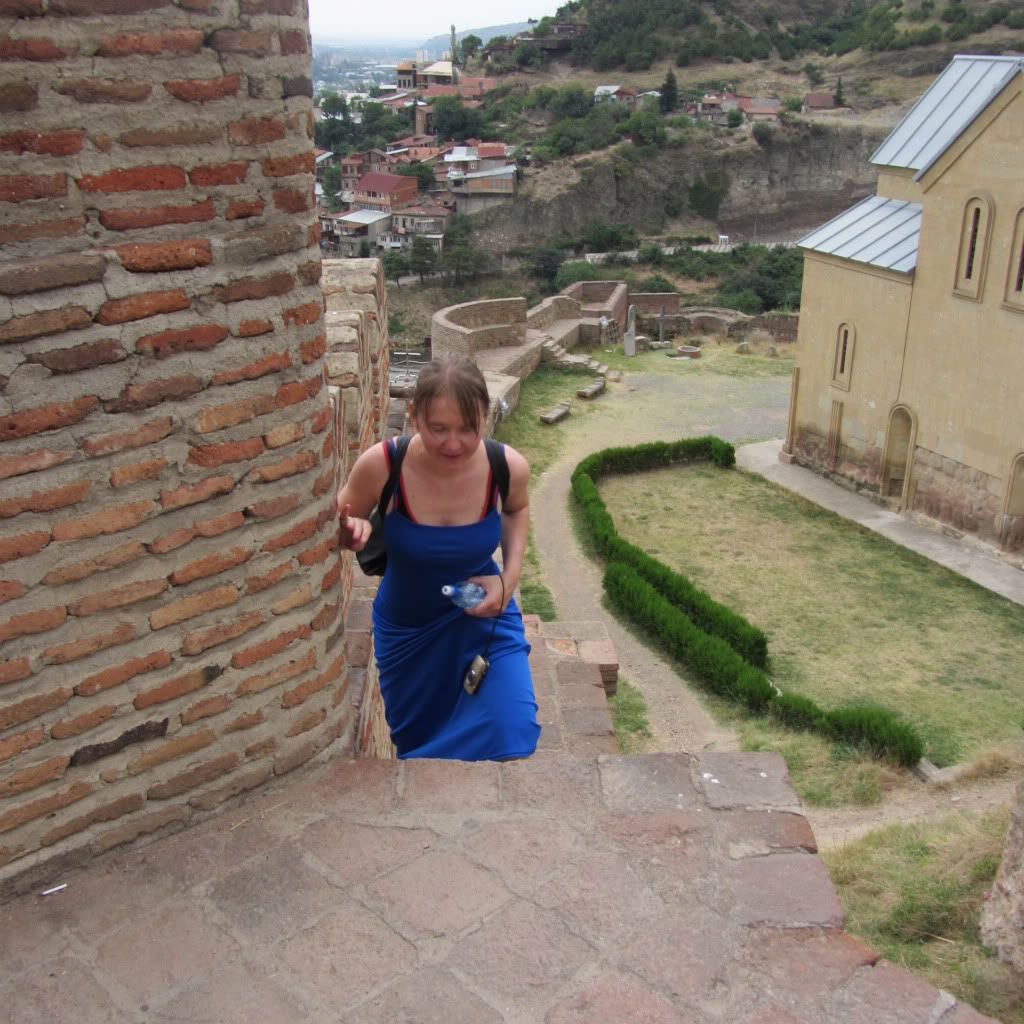 But enough of Tbilisi already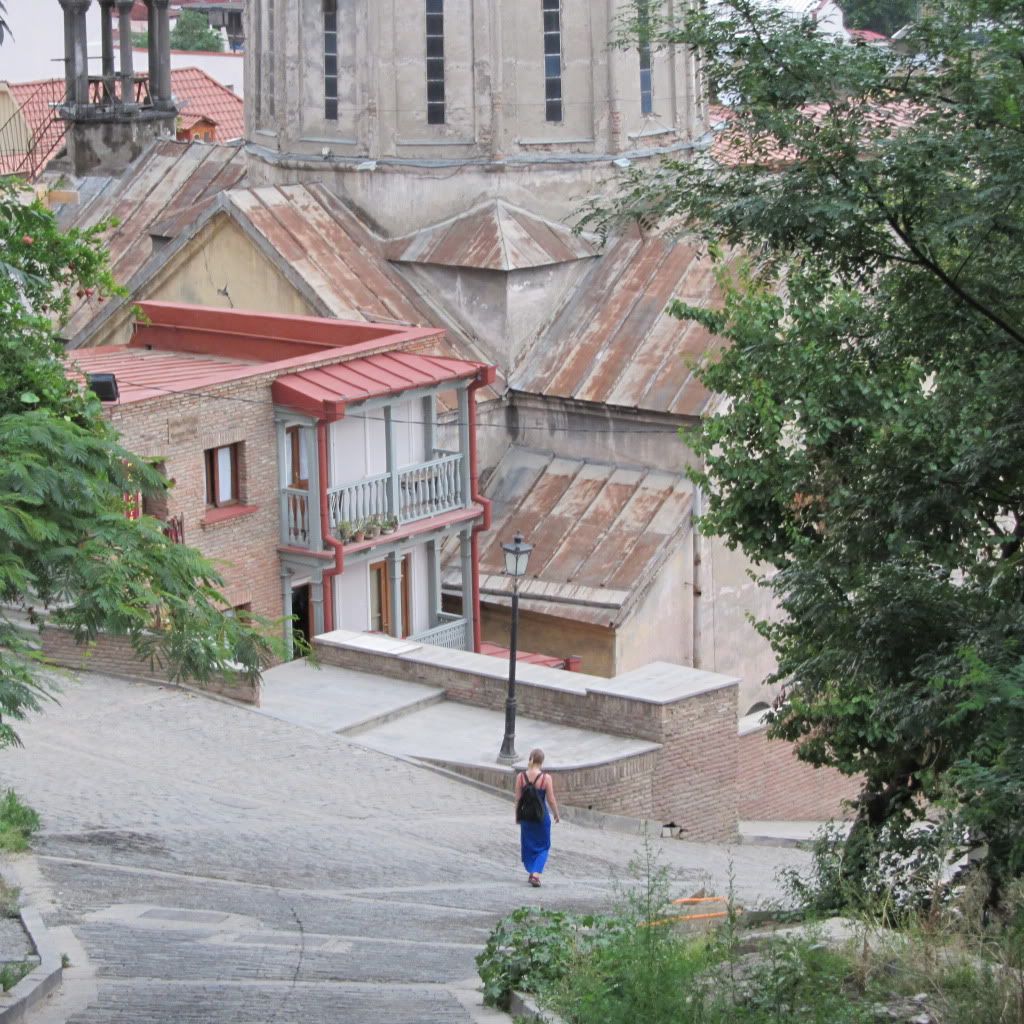 Let's move to
Svaneti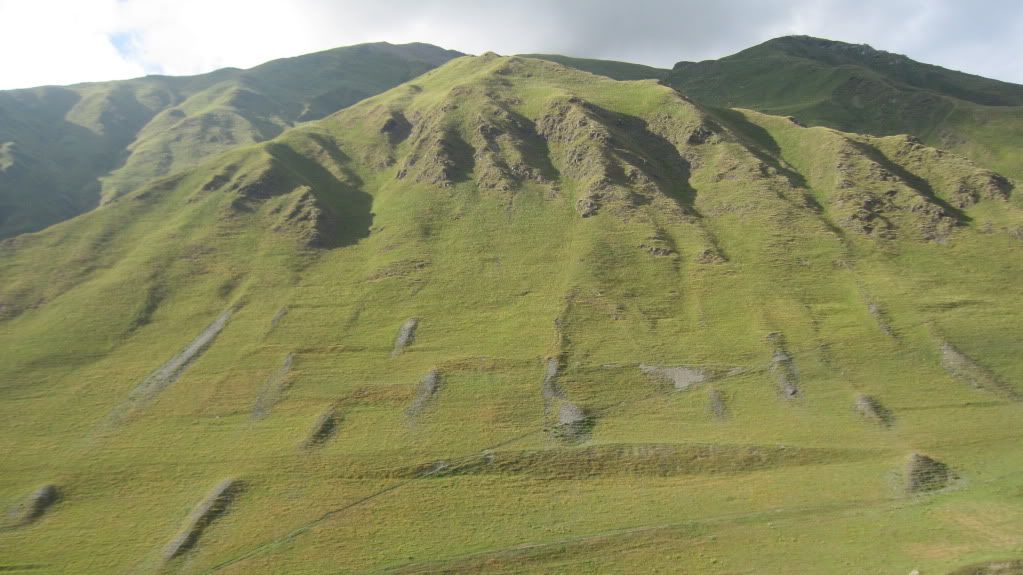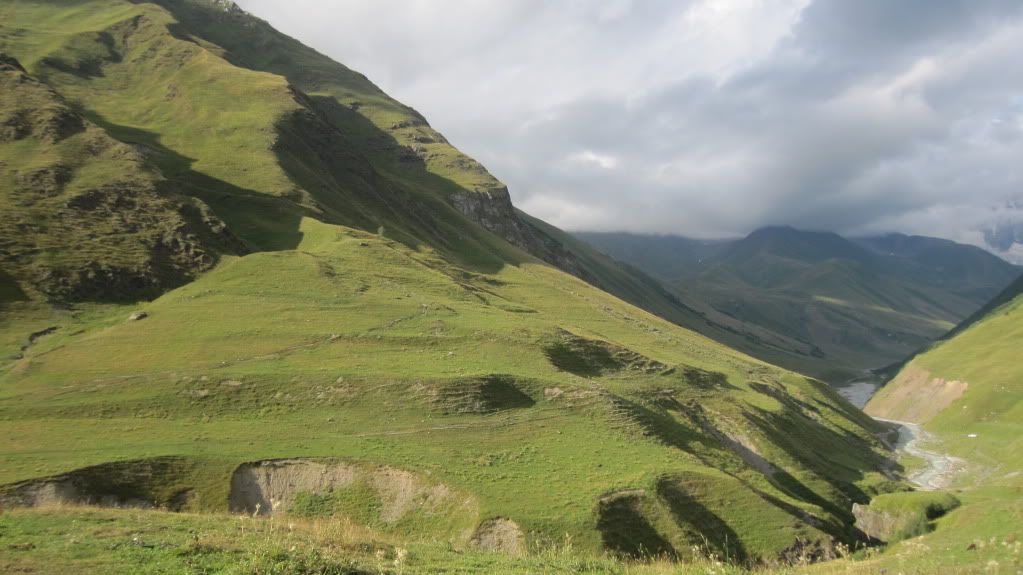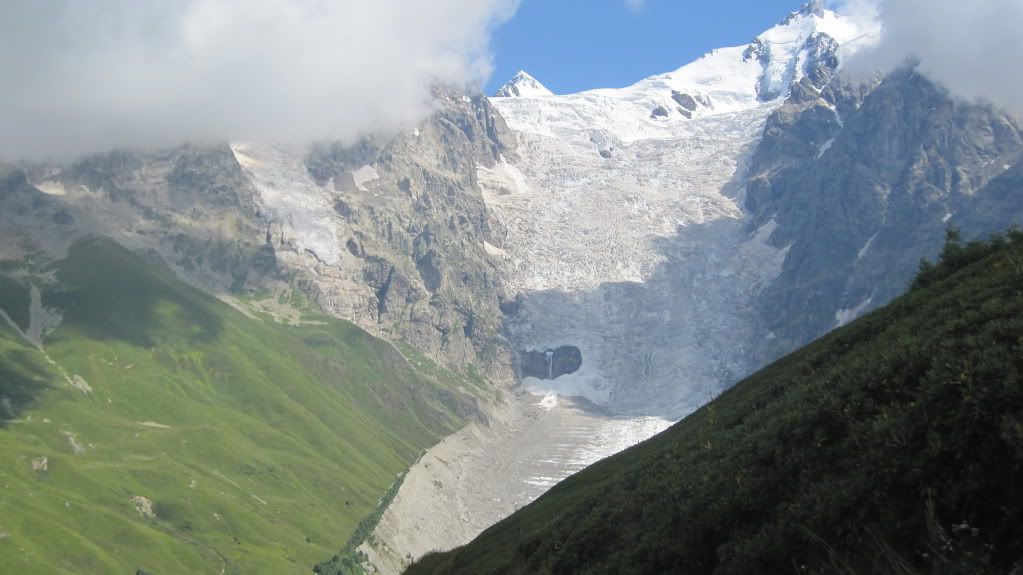 This is bandit country
Seriously. After we had come back from Svaneti and travelled through civilised Georgia, people would ask us whether it hadn't been dangerous, seeing as Svaneti is populated by bandits who hide in the mountains and rob travellers, in manner of highwaymen. It is rather the
Überwald
of Georgia (makes sense, considering the
psychotropic weather
). (We didn't encounter any Igors, alas! That would truly have made my day.)
We did, however, learn some interesting titbits about the Svanetian towers, which are world-famous (I bet you didn't know that) and are included in the list of UNESCO World Heritage Sites.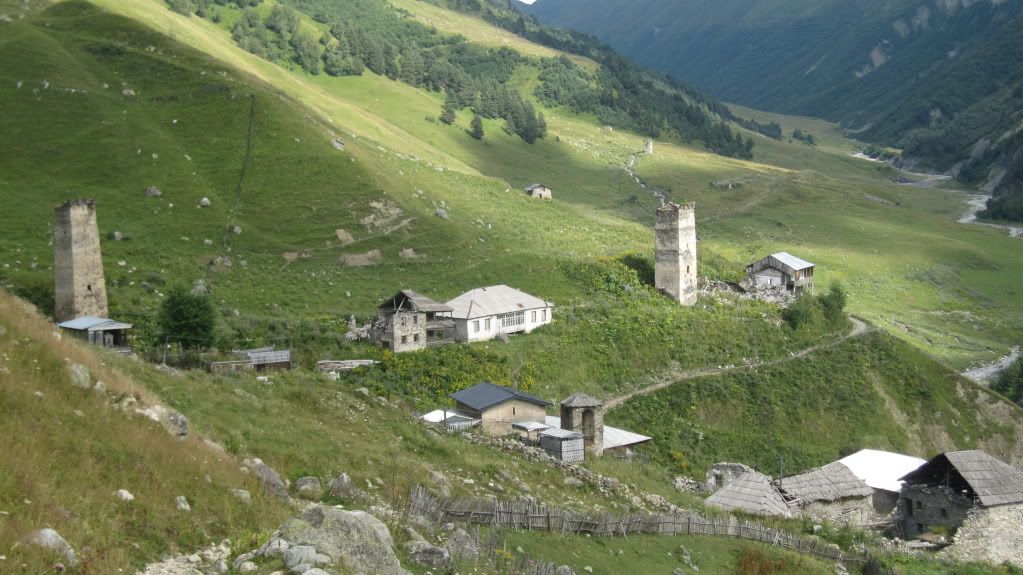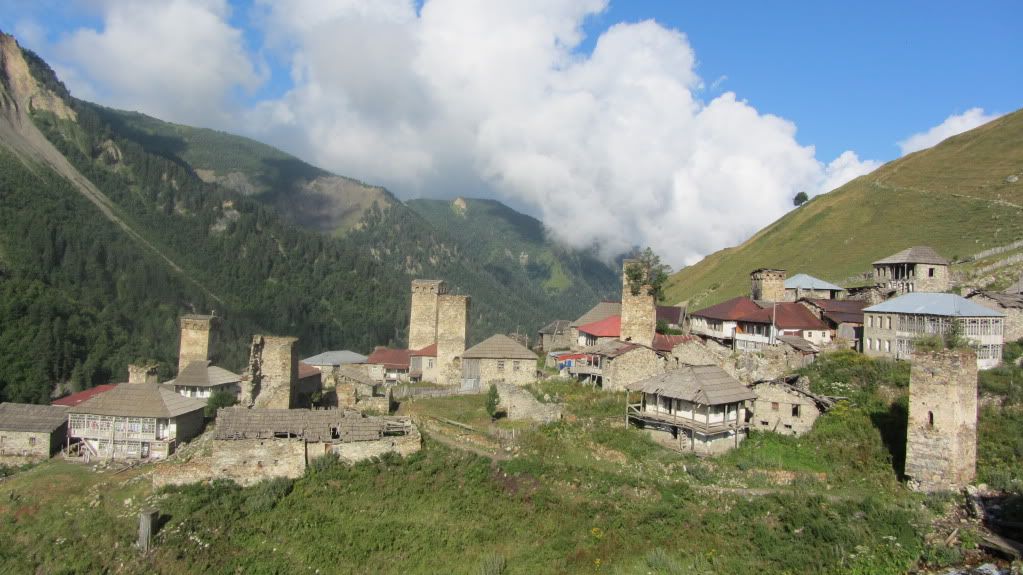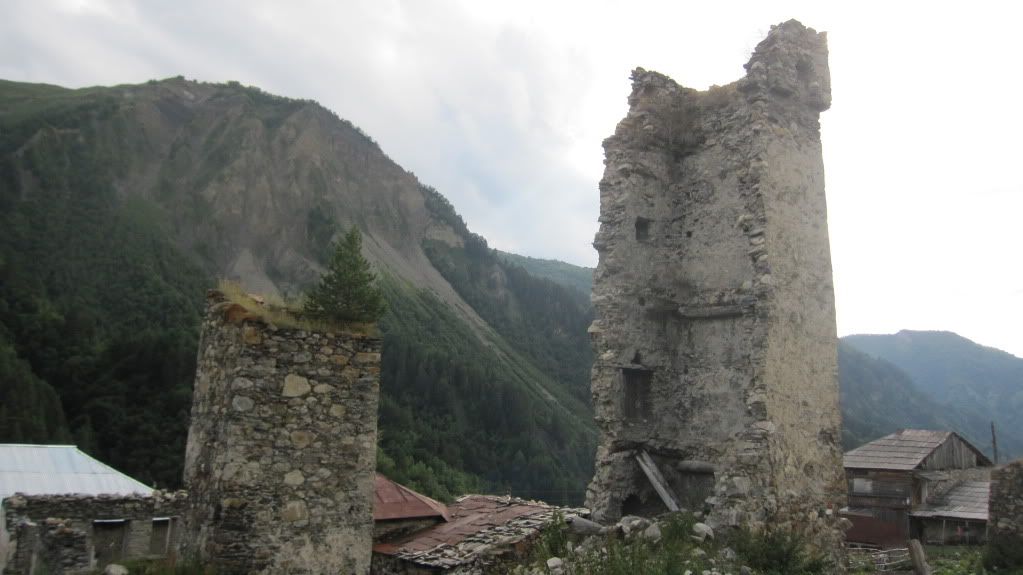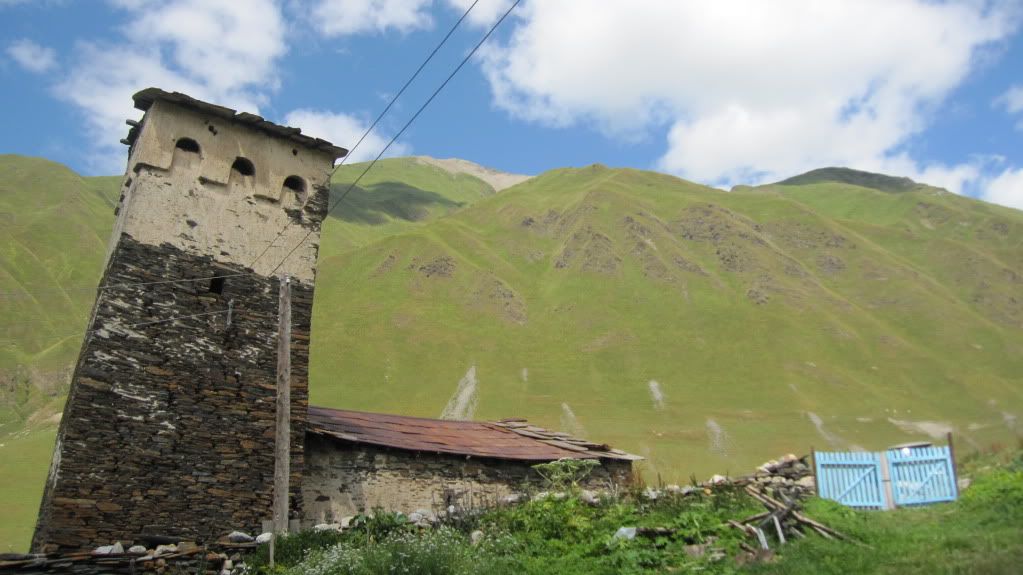 The Svanetian towers dominate the villages, and it looks almost as though every house came with a tower attached.
This is almost true. We visited a museum in Mestia where we were told that whenever a feud broke out between two families (which happened often enough), the men would lock themselves up in their respective towers and fight each other from there. Presumably, the women stayed in the houses to clean, cook, feed the livestock and roll their eyes at the brawling husbands.
Inside the museum: This is what a Svanetian house used to look like: fireplace, benches, chest for the Sunday clothes, and, in the background, the combined bunk beds of cattle (bottom) and humans (top).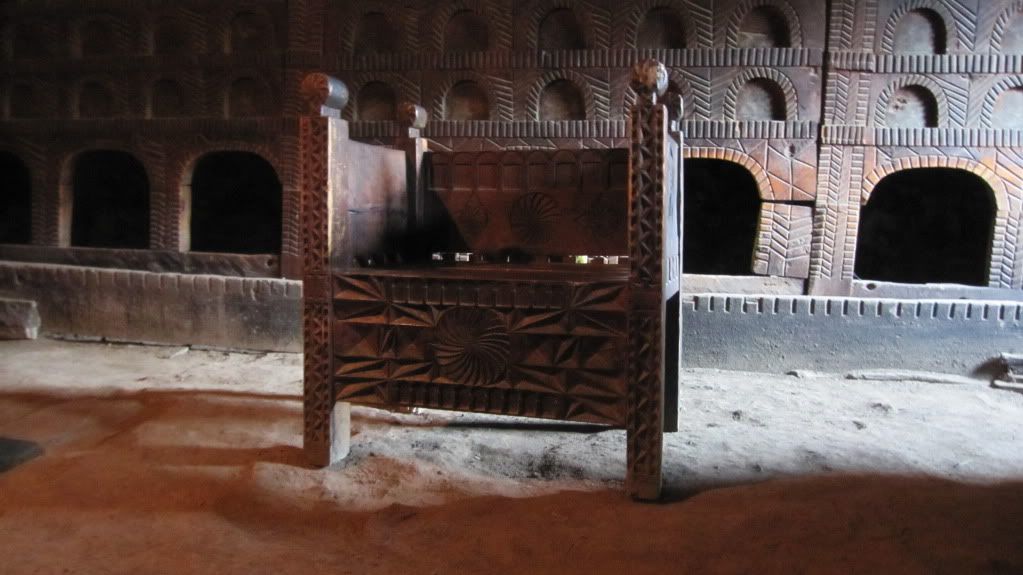 The chief's seat.
Live demonstration of the village elders' bench. I asked our demonstrators to "look wise" for the picture, as befitted the elders...
...and they did.
In Mestia, we also made friends with a stray dog, who followed us around the whole afternoon.
He even tried to follow us up the stairs to the tower, aww... Bless!
Whilst the Georgian dogs were very, very friendly, the cats were indifferent. Cute, though.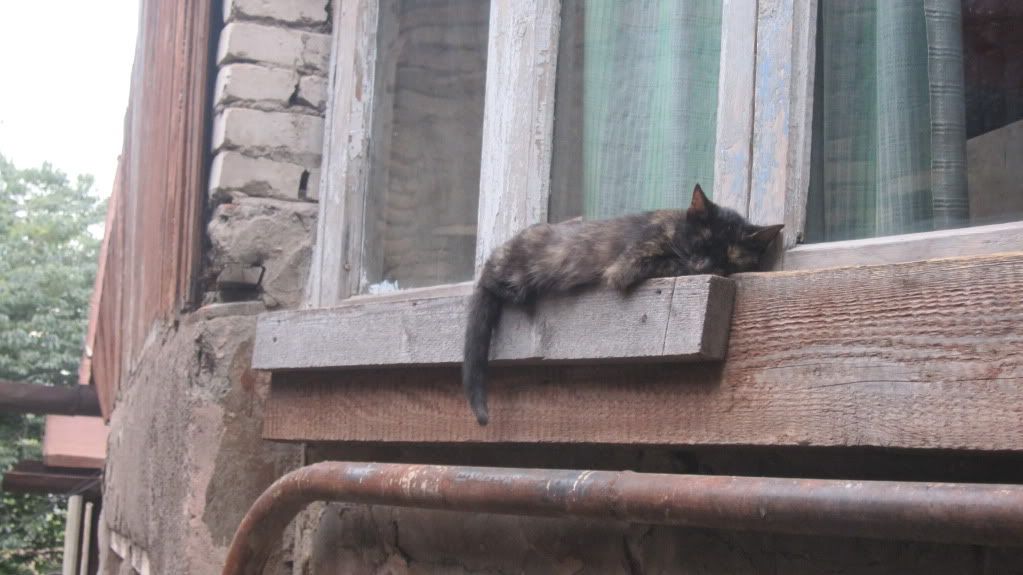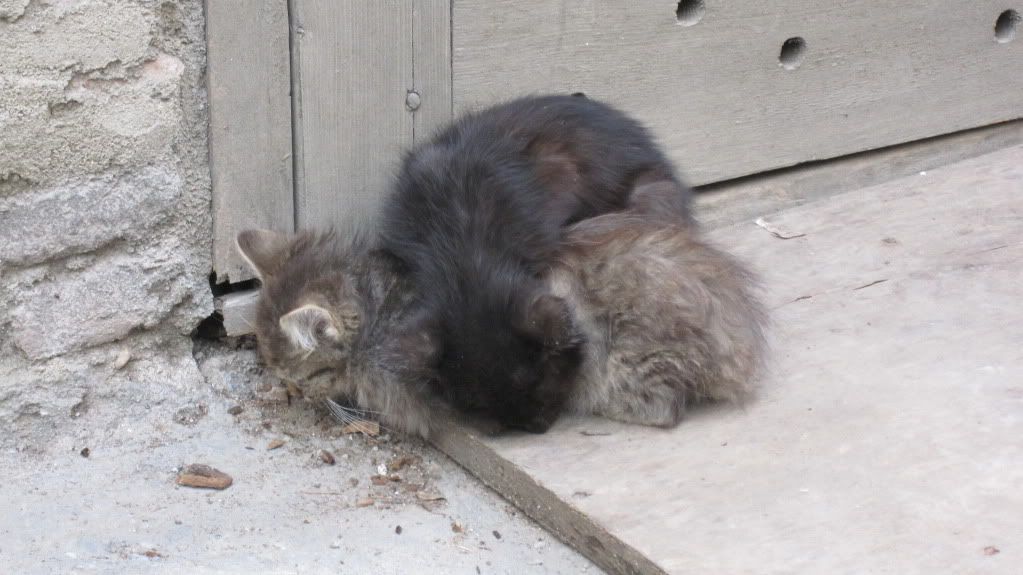 Aww, kittehs...!
Believe it or not, kittens were
not
the most-photographed animals on this trip.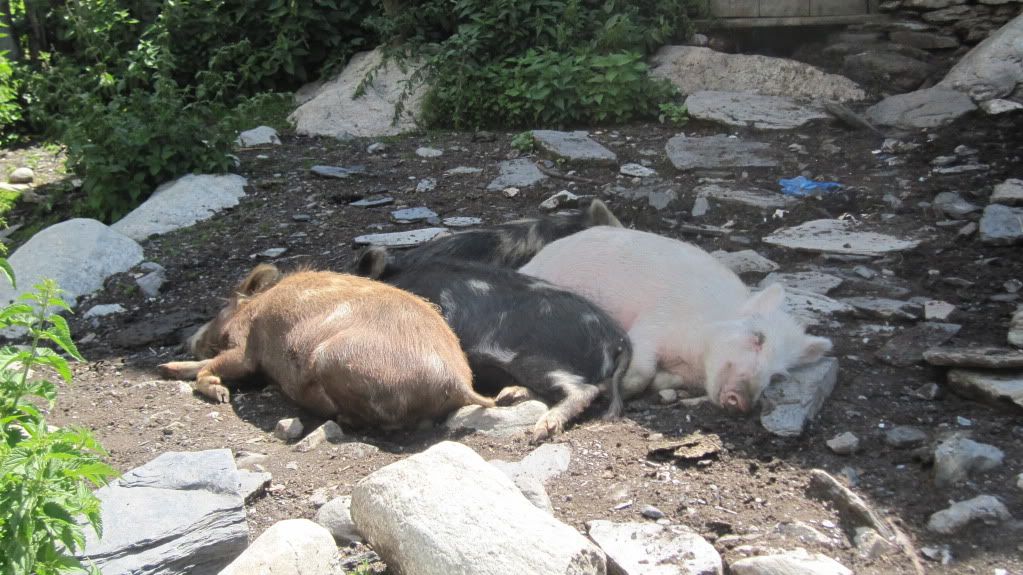 PIGGIES!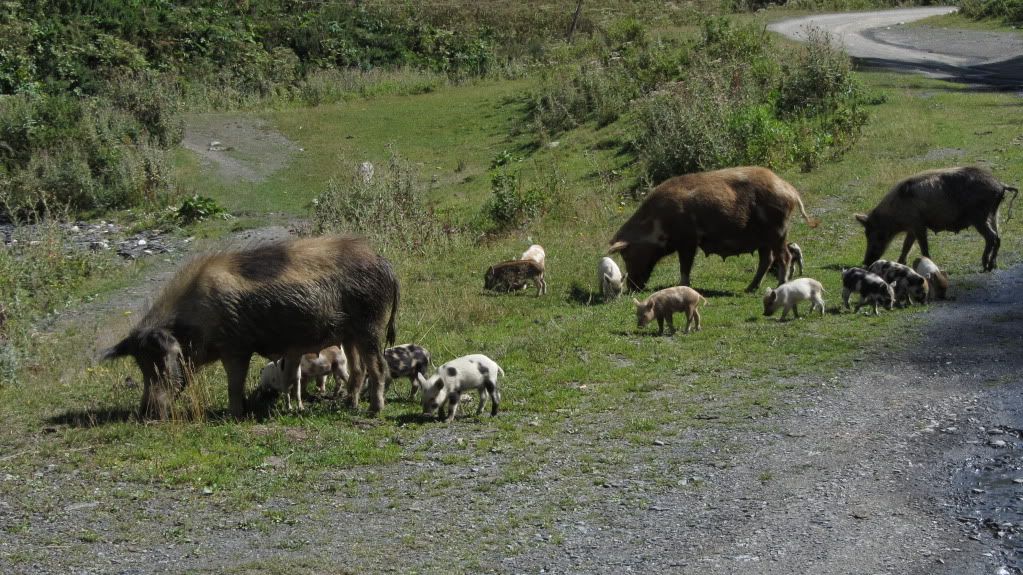 They were everywhere, and they were
so
cute.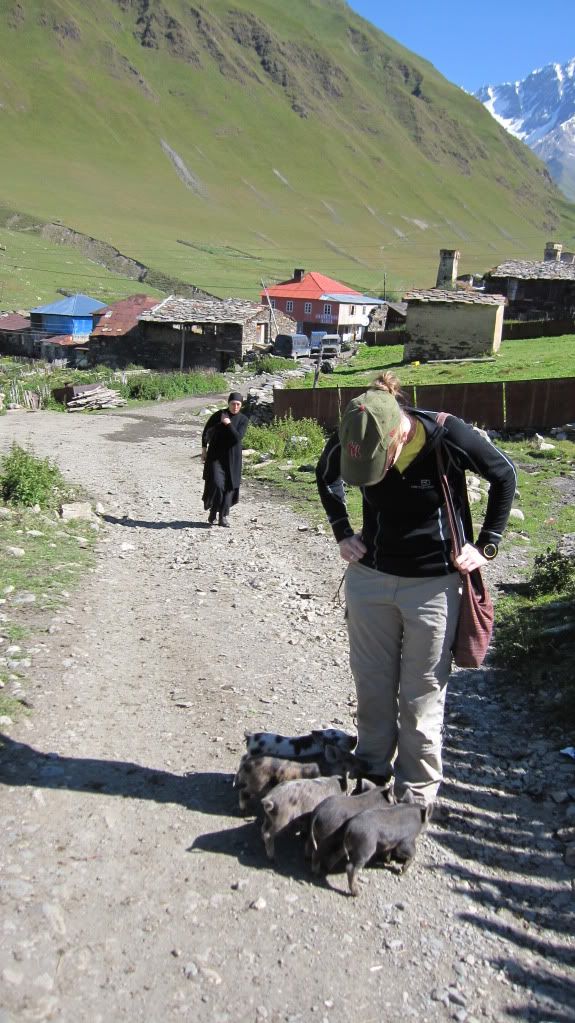 Here they are nibbling on R.'s (mud-soaked) boots.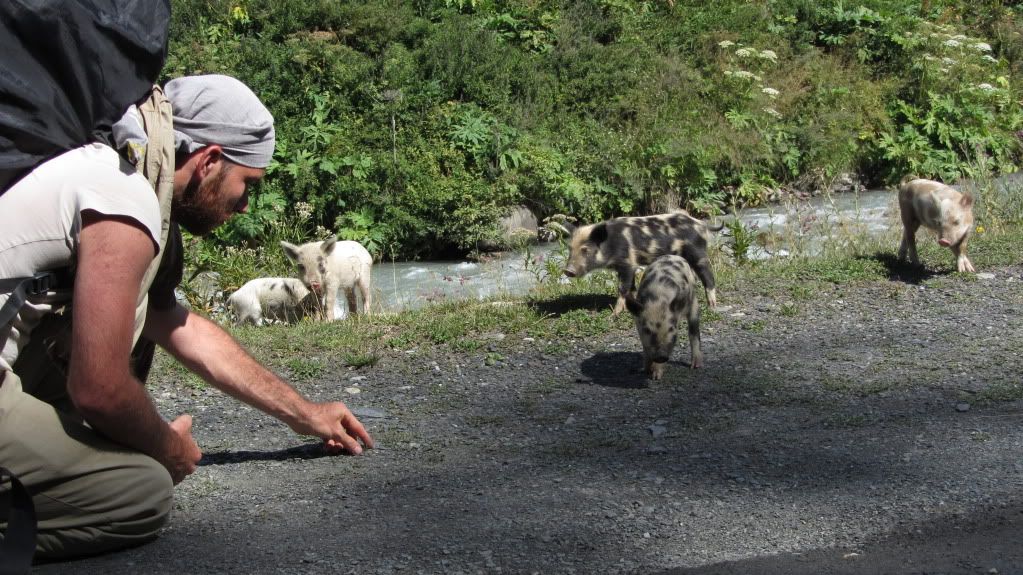 And here is an Israeli vegetarian feeding pigs.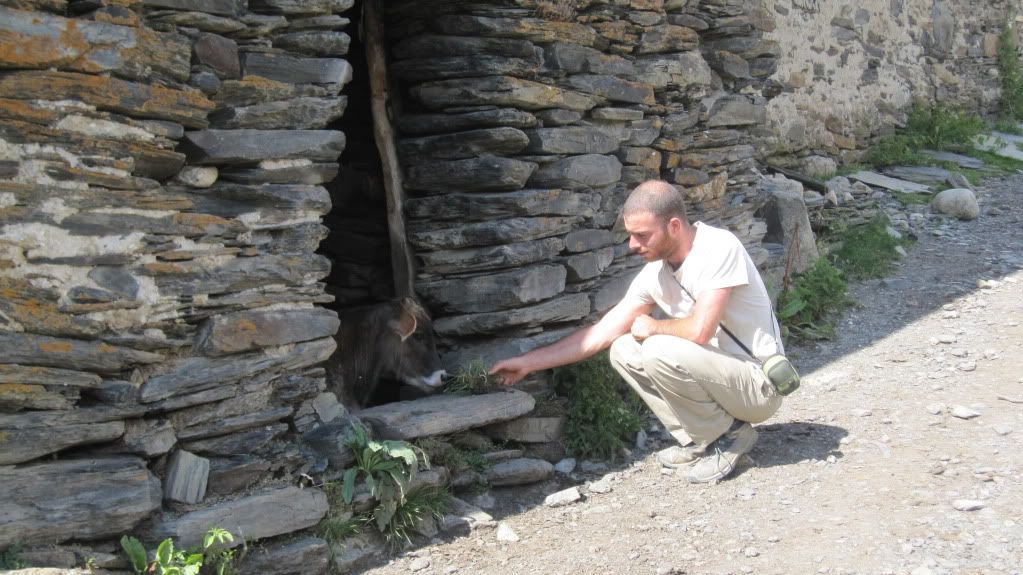 Here he is again, this time feeding calves...
...which were very cute, too.
Just like Tbilisi, Svaneti has many churches.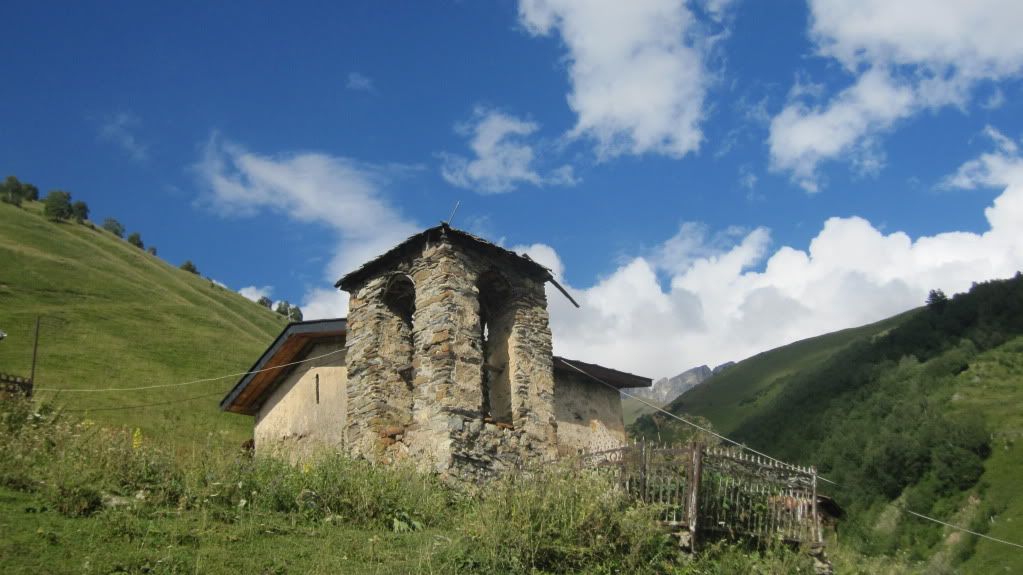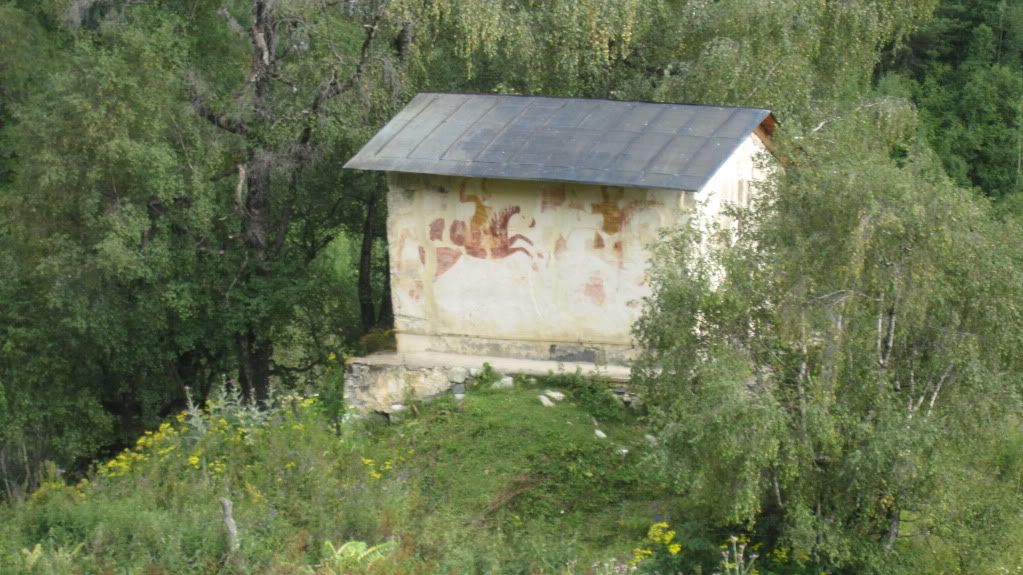 This is the St. George Church in Adishi – easily recognisable by the depiction of St. George killing a dragon.
Inside, the picture story continues.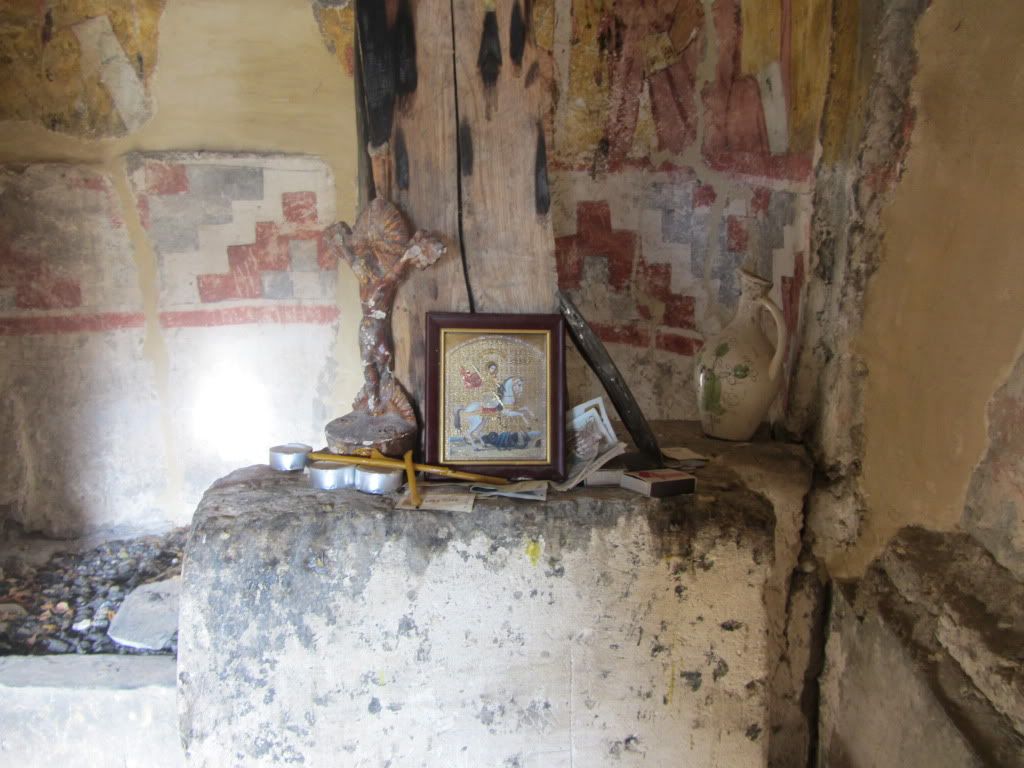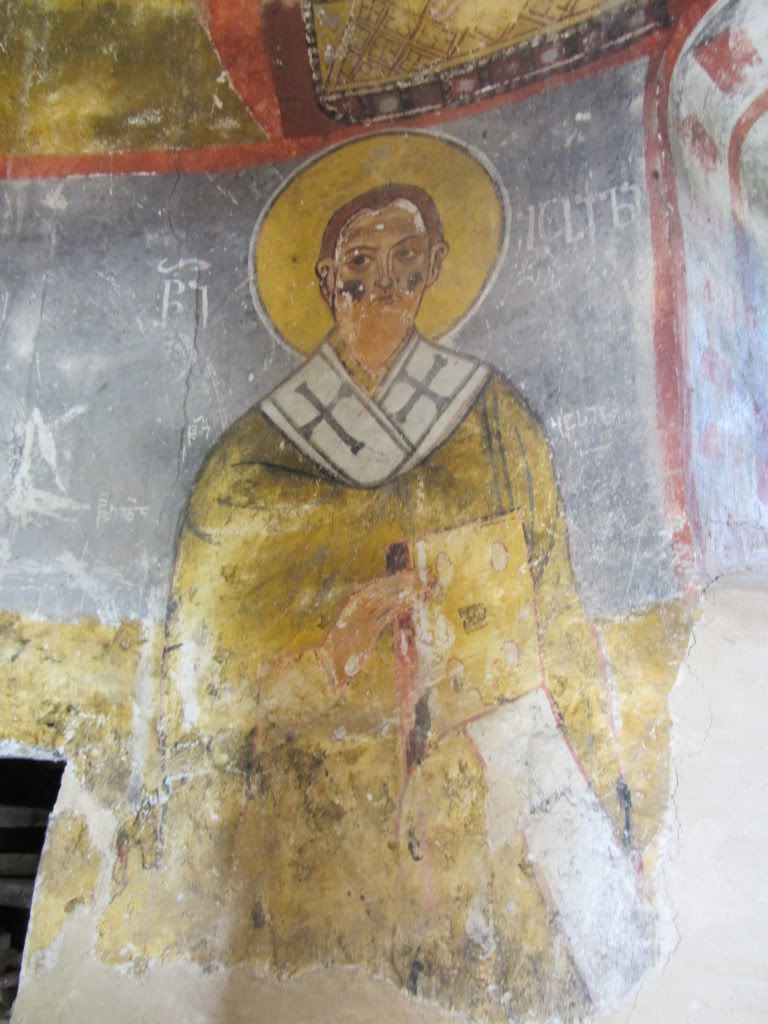 Mural of a different kind. Sadly, we didn't make it to Stalin's place of birth (Gori); but luckily, we encountered him on a wall in the middle of nowhere.
Stalin, by the way, looked like a GQ model in his youth.
Not to mention that
he was a bit of a poet
. As well as one of the organisers of
the
most daring and profitable bank robbery in Tsarists Russia, as a result of which more than 40 people were killed and 340 million roubles stolen. (The booty – amounting to several billion trillions in today's money - was used to finance the Bolshevik party.) In conclusion: compared with Stalin, Hitler was somewhat of a nerdy wimp. Which is probably why Stalin died in his own bed, whilst Hitler died in a ditch, covered in petrol, on fire:
World politics: explained by the
cunning use of flags
. (Don't let the Polish subtitles fool you: the language in the video is English, and it is very much worth watching.)
Meanwhile, back in Georgia (which was likewise stolen by the cunning use of flags, so there's the connection there):
Murals are the artwork of choice in all Georgian-Orthodox churches. Including the
Vardzia cave monastery
, which became the last destination on our Georgia journey.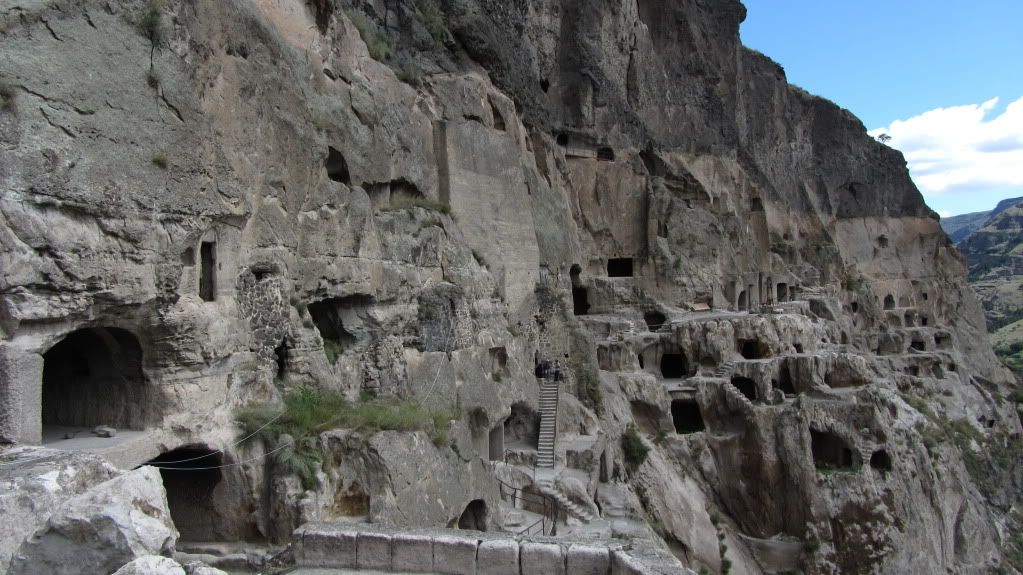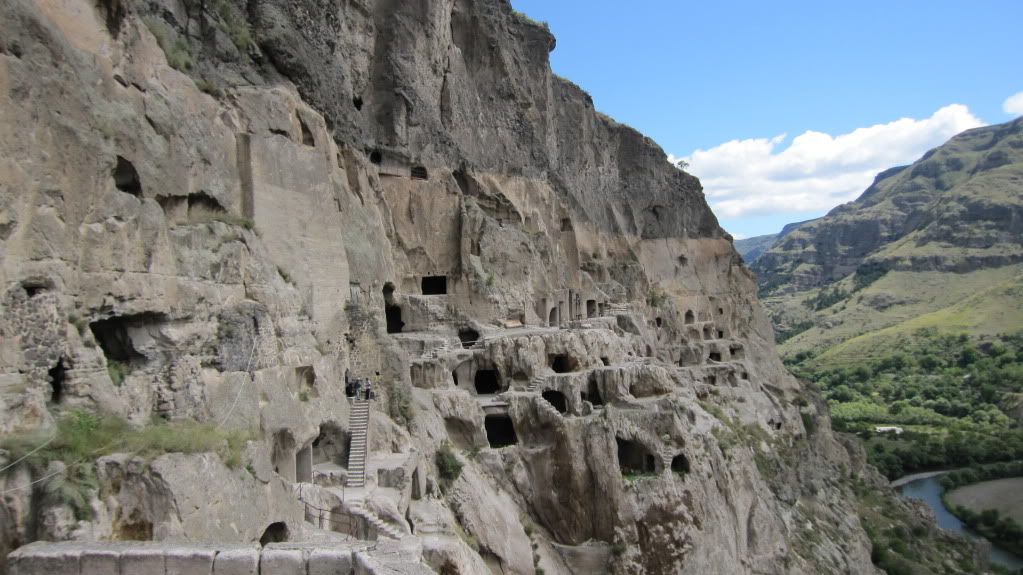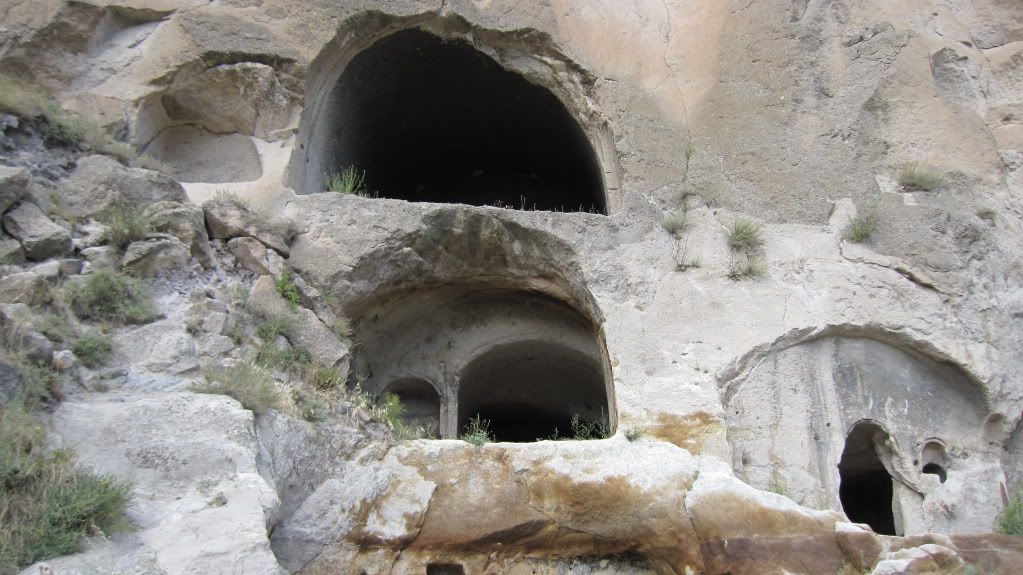 Monks live here.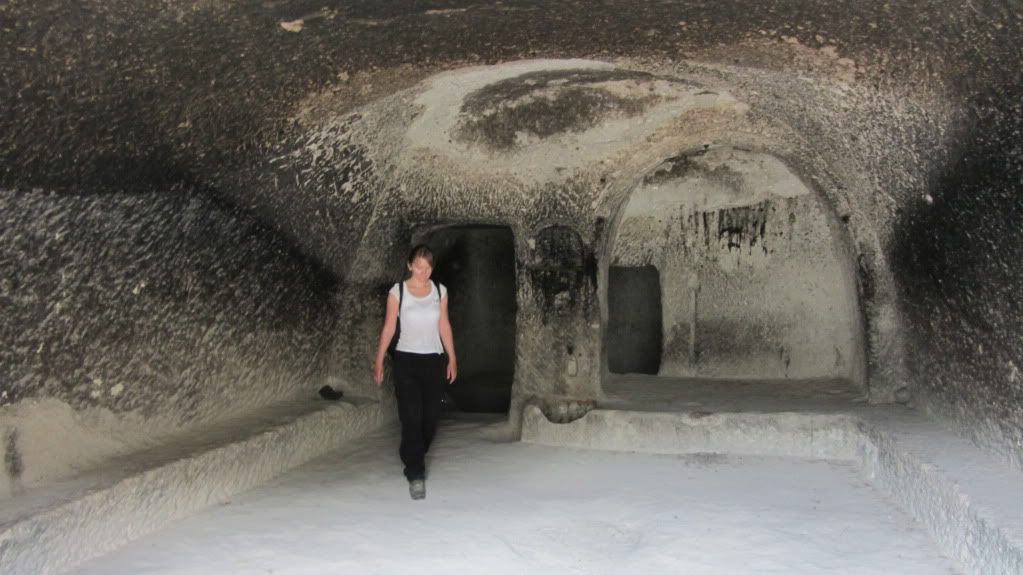 A part of the monastery is open to the public, and tourists are allowed to stroll through the caves, passages and underground chambers and explore the complex at will. And so we did.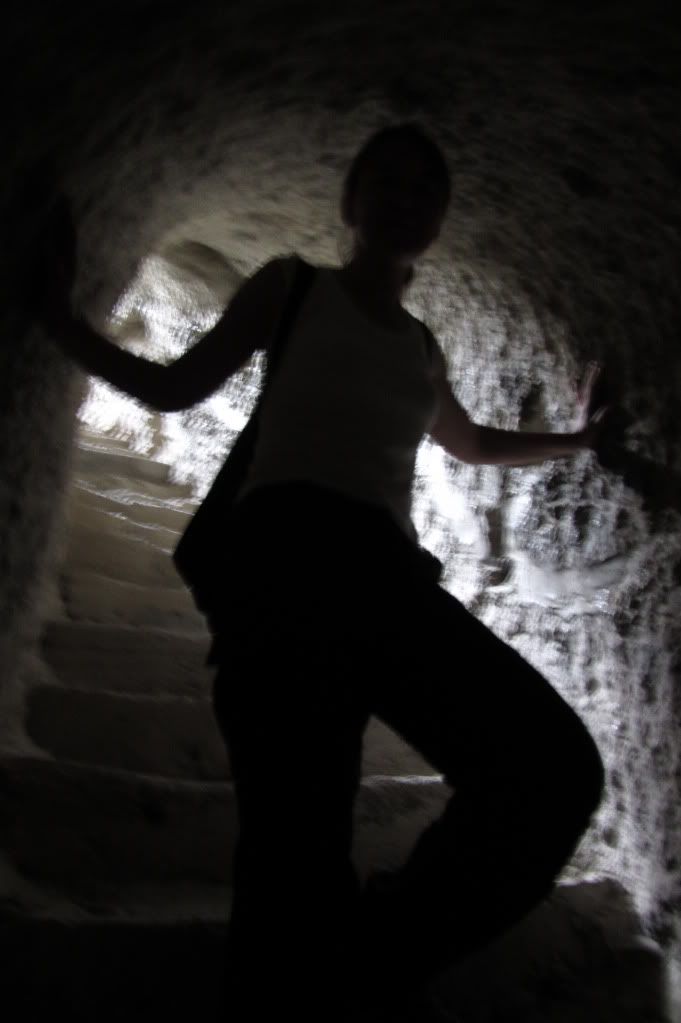 Pictorial evidence that I do not suffer from claustrophobia.
Nor vertigo.
Around, around the sun we go: The moon goes round the earth. We do not die of death: We die of vertigo.
- Archibald MacLeish
Previously posted:
Romantic Georgia
Industrial Georgia
Next up:
Gothic Georgia