donata
Georgia travel report, part II: Industrial Georgia
And, perhaps even more importantly,
industrious
Georgia. The country is permeated by a real sense of purpose and of achievement. Wherever we went, we encountered people renovating, reconditioning, and (re)building their houses, towns and roads. For us, that meant that we spent half the time living in half-finished guesthouses and hotels, and the other half travelling along roads that were heavily under construction. Fortunately, the third half (
"Oh dear, maths!"
) was spent in pleasant countryside.
We didn't mind the discomfort, however. Rather, we admired the diligence and hard work people put into making their country a better place. Plus, the roads being a work in progress made travelling somewhat more exciting.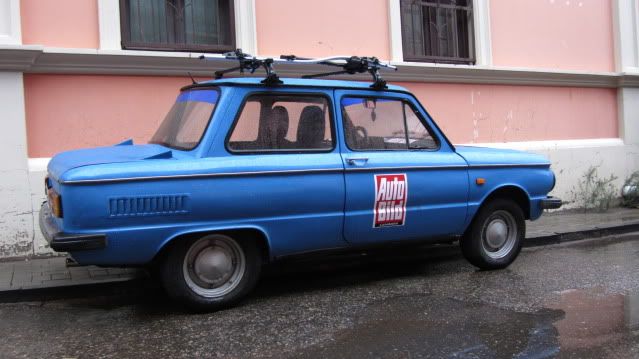 Whilst construction work was in progress everywhere, even the hardest-working Georgians take a break every now and then.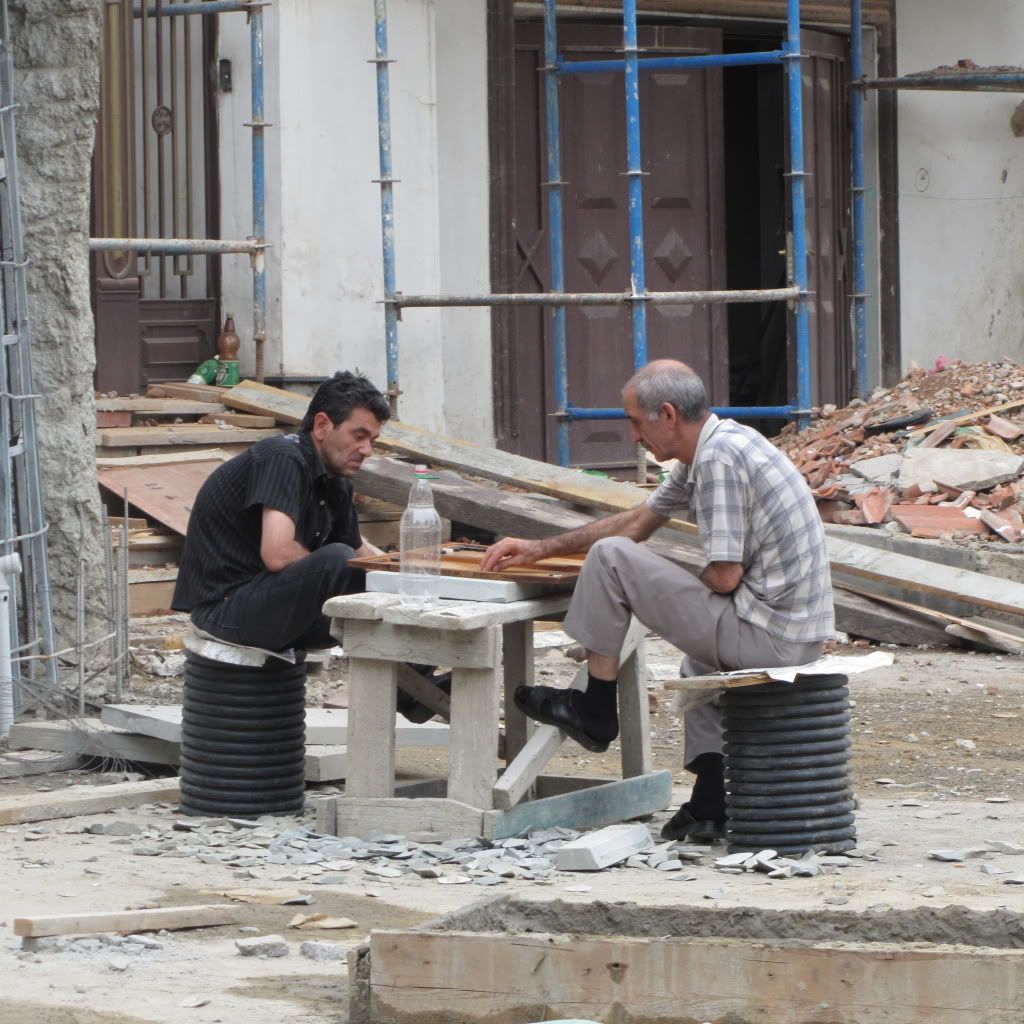 Here's a makeshift backgammon table.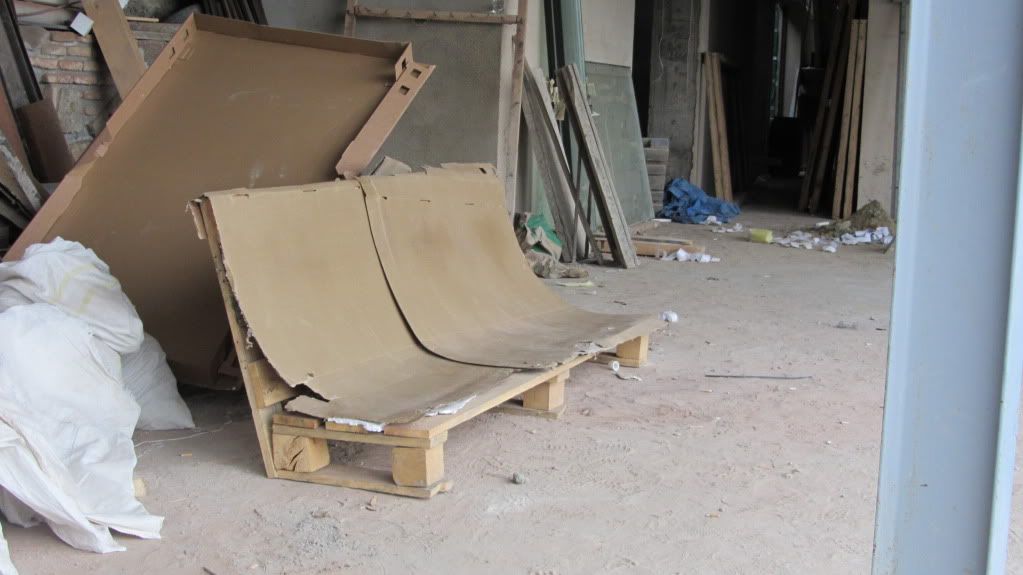 And here a rather ingenious leisure zone at a Tbilisi construction site.
Tbilisi is choke-full with examples of ingeniousness.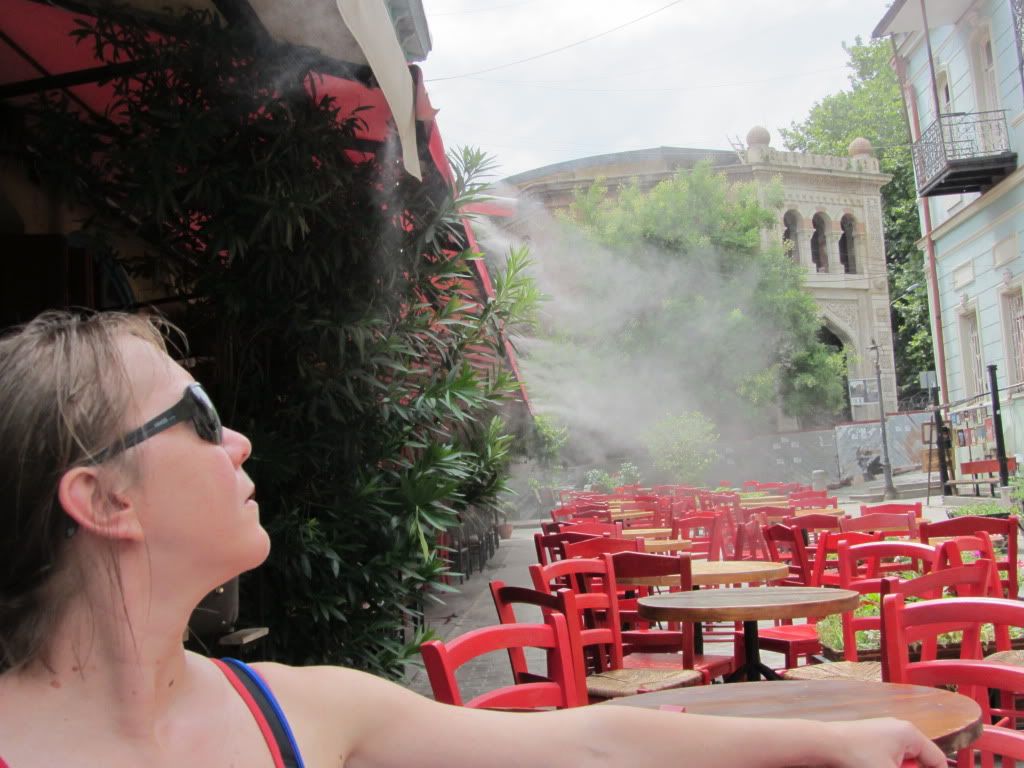 The street cafés are fitted out with a contraption worthy of Wallace himself: a piping system distributing a fine spray of water to provide cooling for the patrons and to bind dust particles (of which there are many).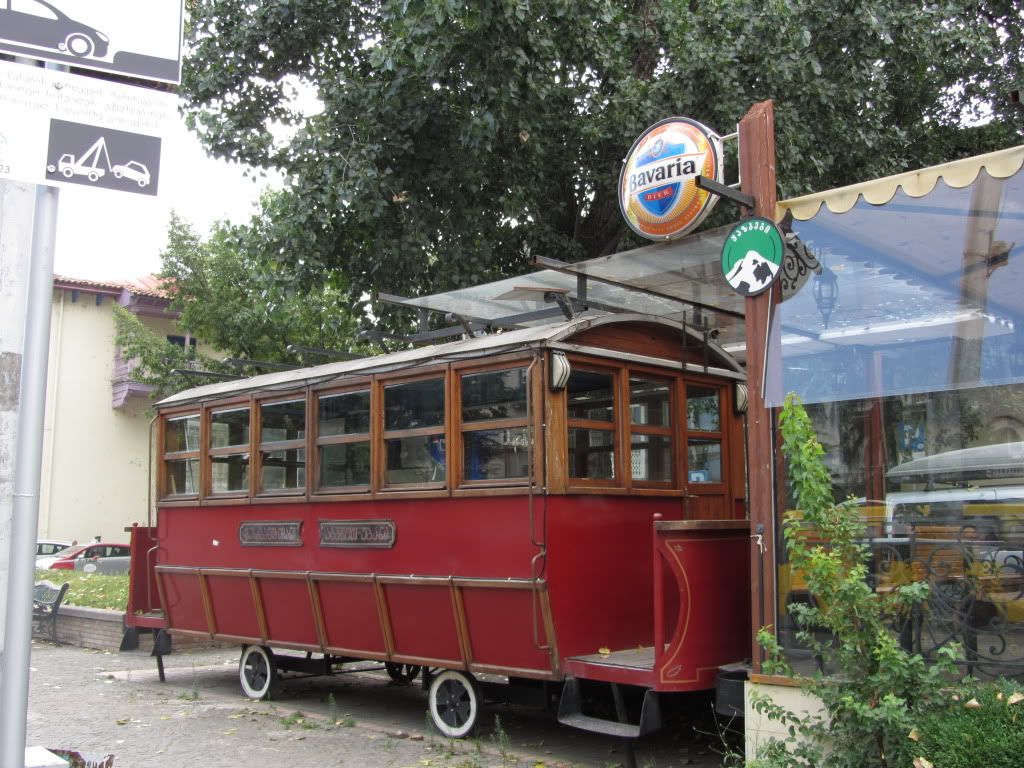 And the old disused trams, installed in various parts of the city, are as decorative as they are functional.
Better than dumping the old things in the street, eh?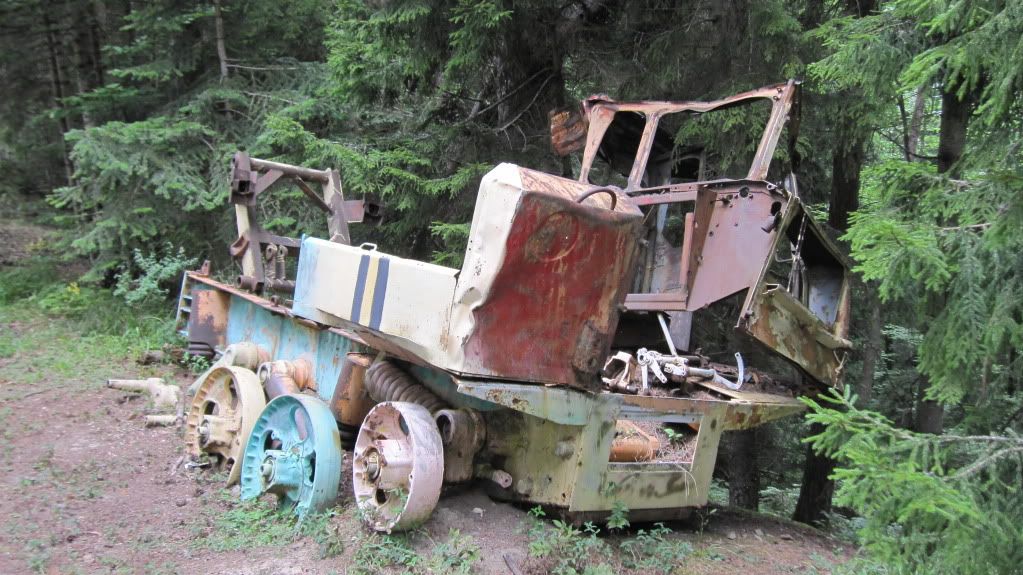 Or in the woods.
When we were leaving Tbilisi, R. said from the outset that she would like to try to travel by as many different means of transport as possible. And so we did. However, our main means of transport remained the
marshrutka
: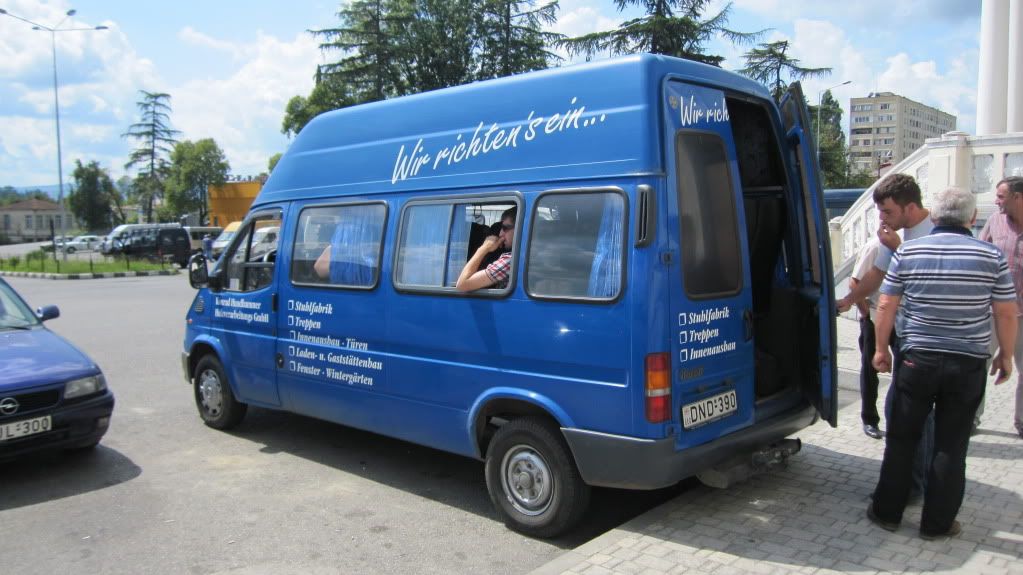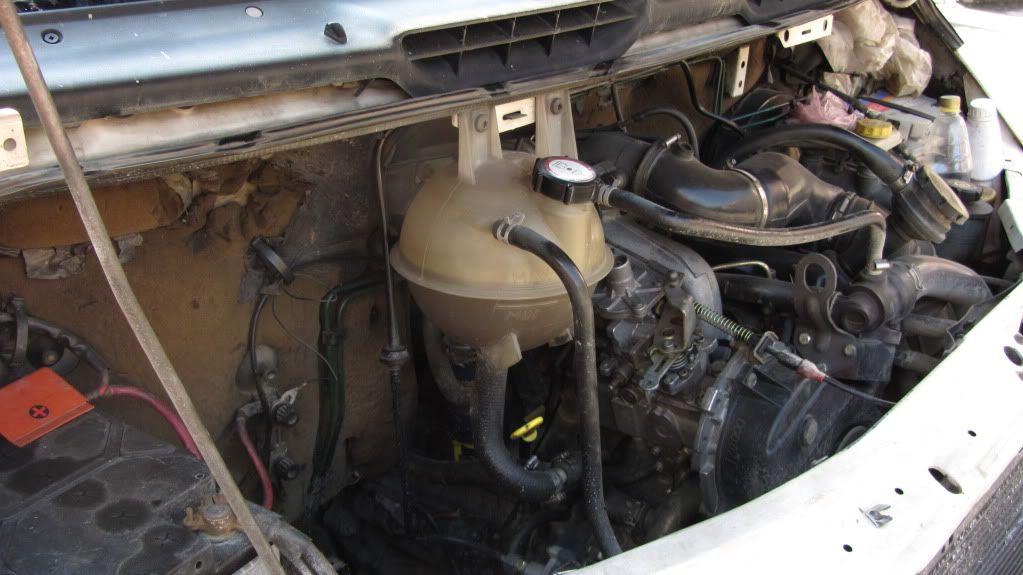 It's an old, often German van into which a good dozen travellers are crammed in, who sweat a lot (this is essential).
I suspect the marshrutkas run on sweat. And in order to generate more sweat, the drivers are instructed to drive like the devil, overtaking everything and anything, especially in a curve and preferably if there is either a sheer drop on one side of the serpentine road or a construction site on a bridge.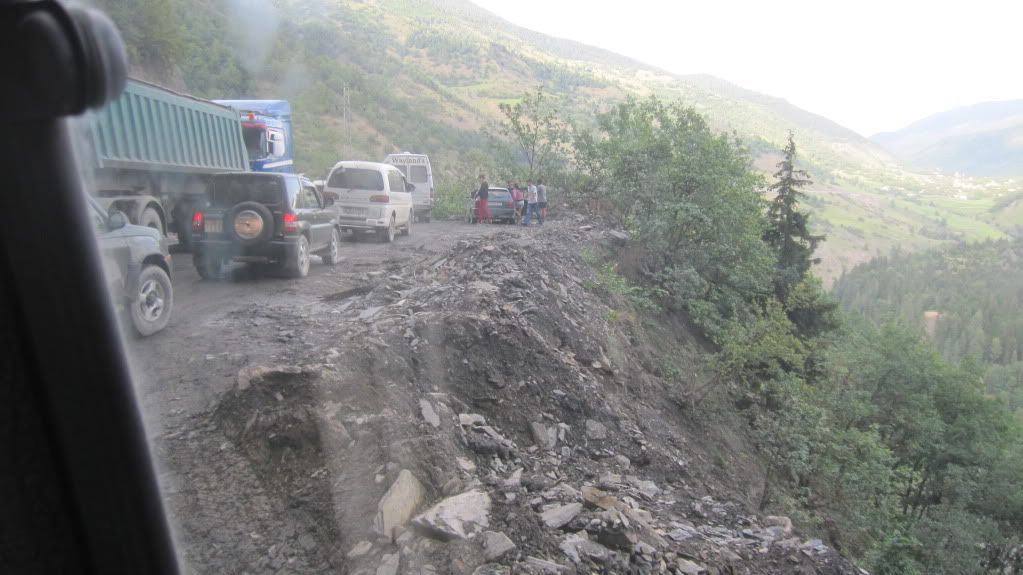 An ideal spot for overtaking manoeuvres.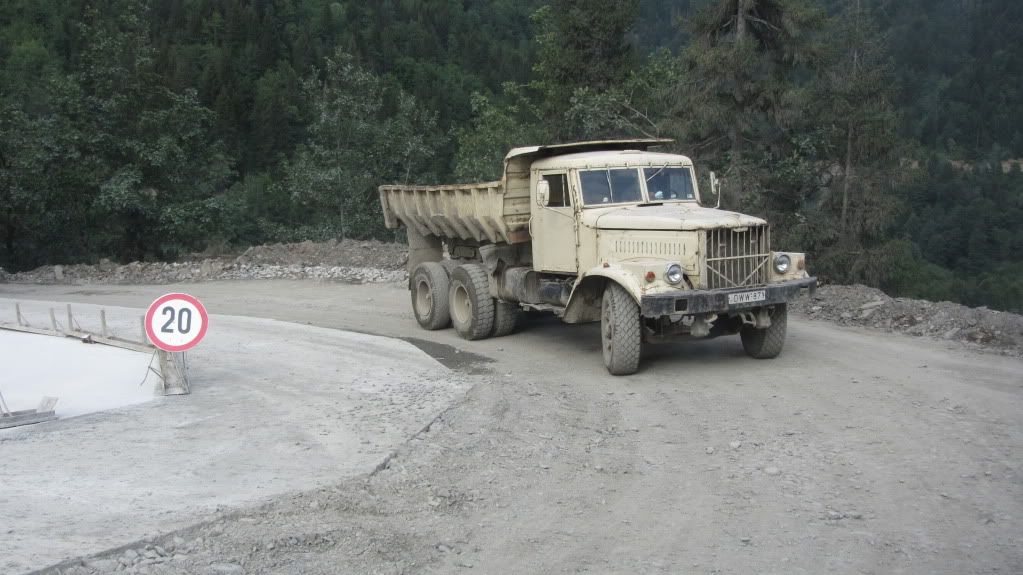 A potential competitor for the road.
Then, the marshrutka drivers use the passengers' cold sweat to power the engine. They're like the crew of
Monsters, Inc.
, in a way.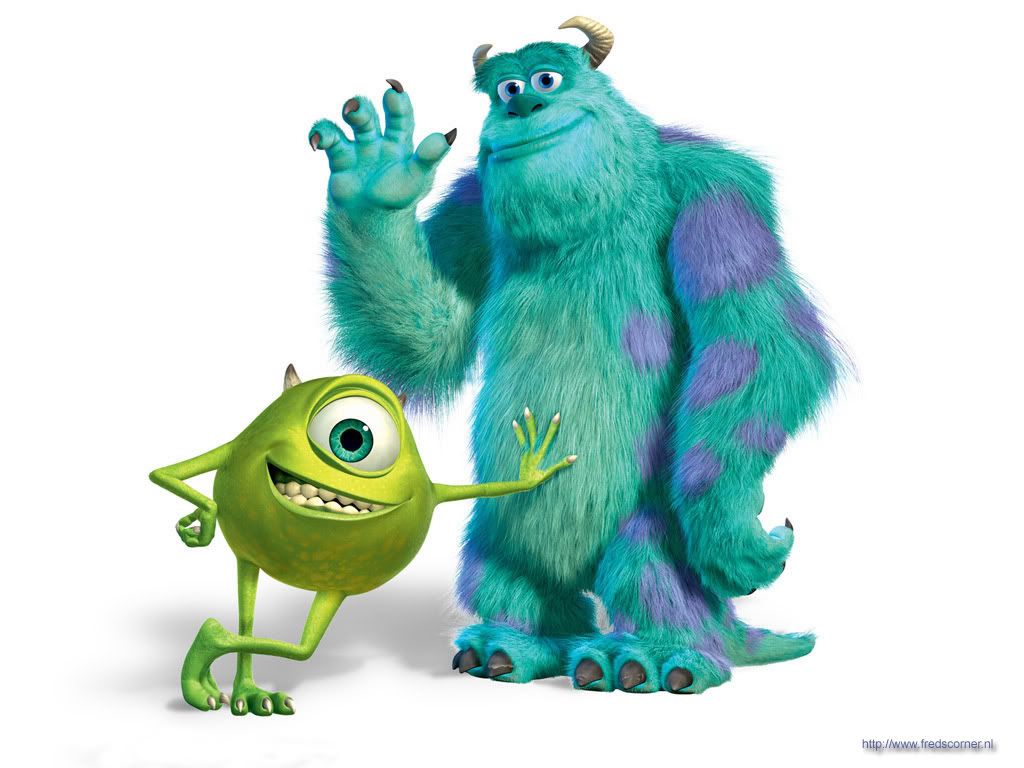 Pictured: Marshrutka drivers.
"They scare because they care."
But because Health & Safety is a growing concern, even in Georgia, tried-and-tested safety protocols are firmly in place. Before overtaking another vehicle, the driver implements the ultimate safety measure: the sign of the cross. In this, he is often joined by other passengers.
The Georgian Sign of the Cross is a highly versatile method that has been successfully utilised for centuries, meticulously adapted for new applications, and, today, is fully compatible with a wide array of sticky situations. I am pretty sure it also works as a contraceptive (for a given value of "work").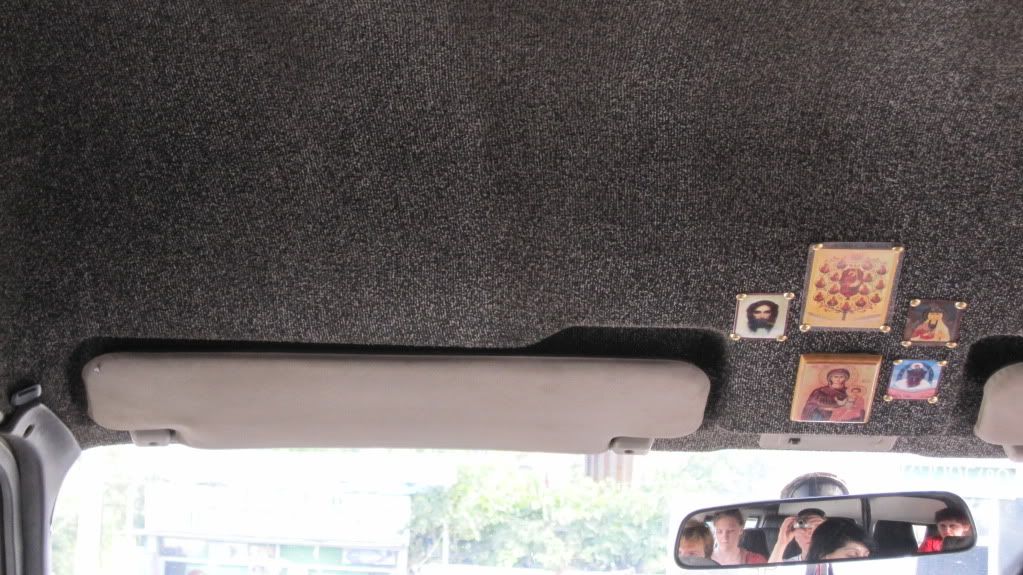 Pictured: WHSO/user interface, accessible via the Georgian Sign of the Cross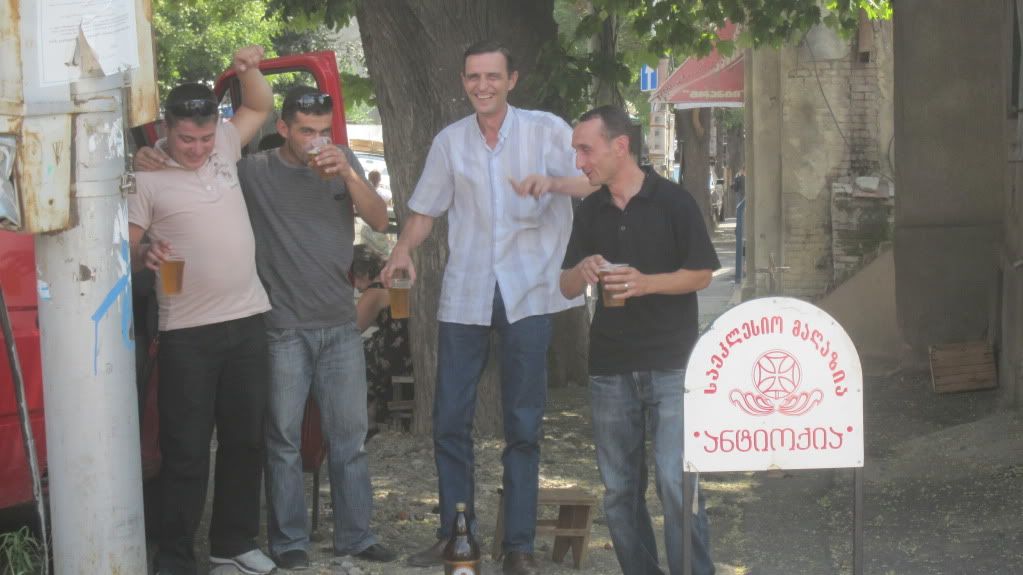 Possibly marshrutka drivers, possibly not. These friendly gentlemen saw us walking by and indicated that they didn't mind getting photographed.
These friendly men, for their part, offered us a ride in their snazzy hotrod.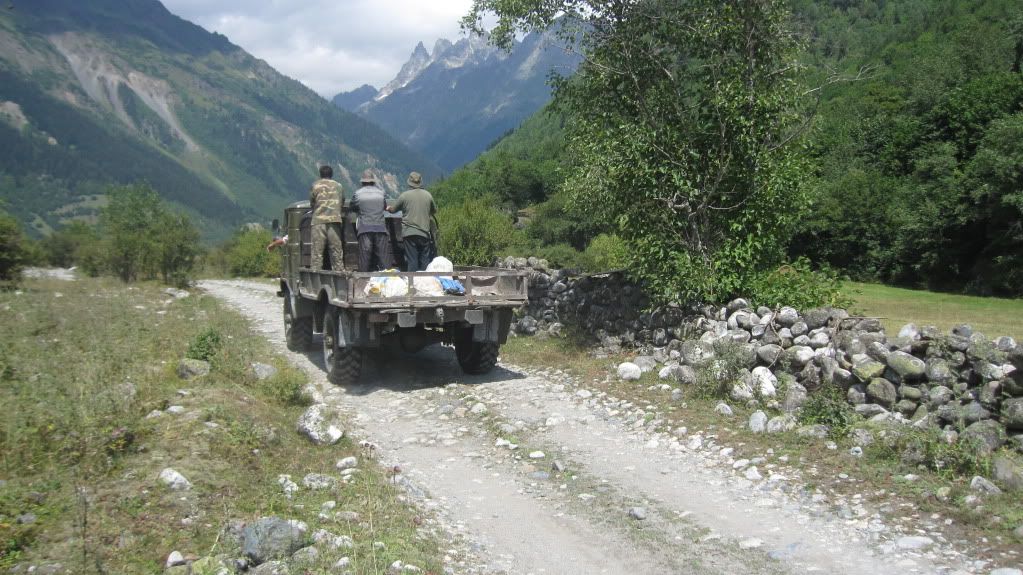 We didn't take them up on their offer, however.
This encounter happened on our very first day in the Svaneti mountains; we were walking to the Chalati Glacier near Mestia. It was an utterly beautiful, sunny day, we had wild raspberries and wild strawberries on our way up and encountered many wonders of nature.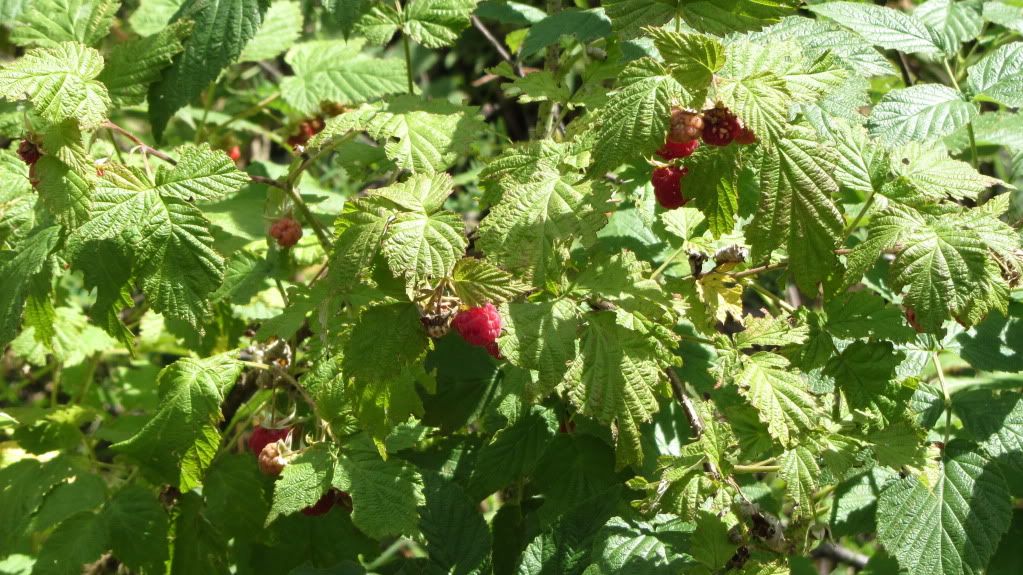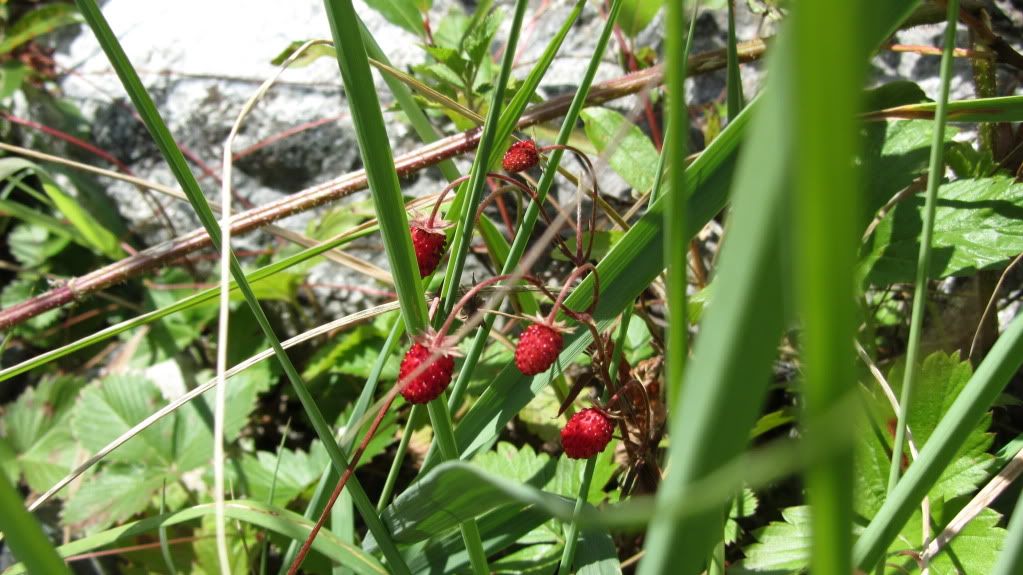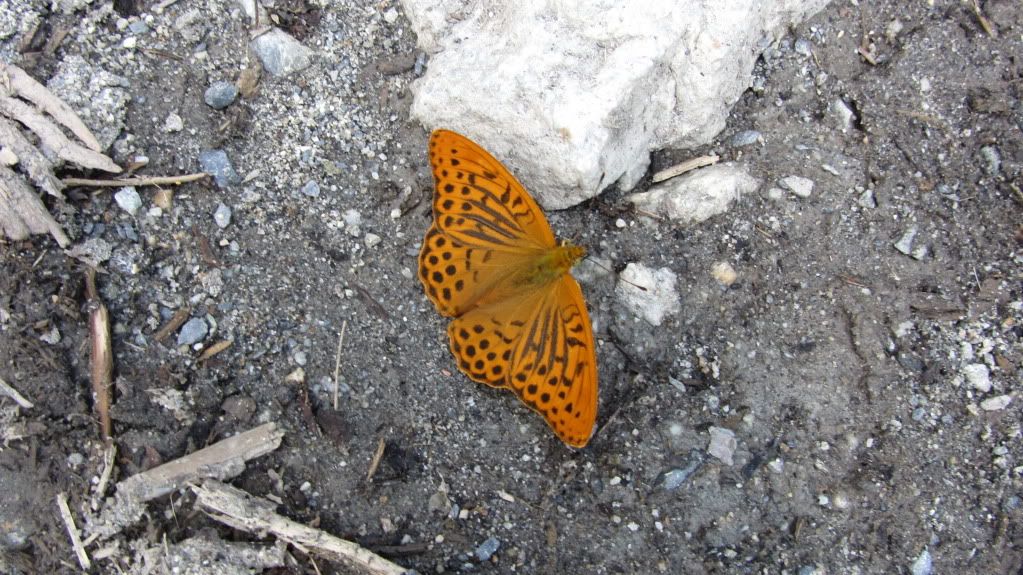 In order to get to the glacier, one has to cross the Bridge of Death:
On the other side, a new adventure awaited: some guy, wearing a t-shirt, a sun hat and a pair of binoculars around his neck, emerged from the woods and told us he represented the Border Police. He kindly asked us to accompany him back into the woods in order to help him fill out some registration forms. Not entirely convinced, yet not discounting the possibility that he was speaking the truth, we followed, hesitantly.
In the woods, it turned out he had indeed been speaking the truth: he led us to a hut where another guy (camouflage gear and large bushy beard) was sitting at a table covered in paperwork. Binoculars!guy spoke very good English and was very friendly, whilst bushy-beard!guy didn't speak at all and was very grumpy. Thus, we were treated to a display of a Good Border Guard/Bad Border Guard routine and spent some 10 minutes helping them with their
inquiries
registration forms. They took R.'s name and address (she had her ID handy; I didn't), wrote it down and made her sign some piece of paper. Seeing as it was written in Georgian, we had and have no idea what exactly it was that she'd signed. We suspect (and everybody agrees) that she probably got married. One can only hope that it was friendly binoculars!guy rather than grumpy bushy-beard!guy who was the groom.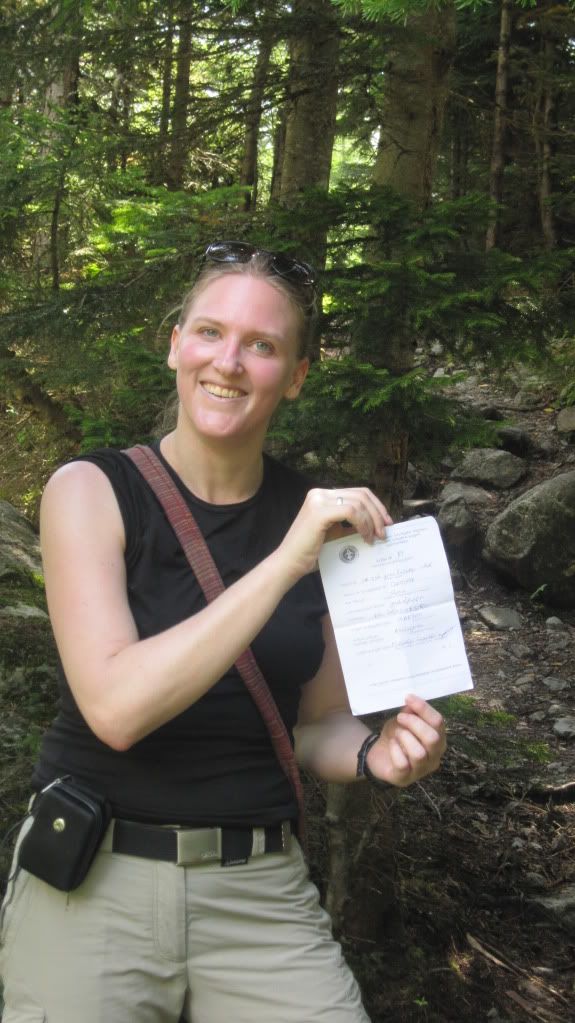 The blushing bride, proudly showing off her marriage certificate.
And then, at last...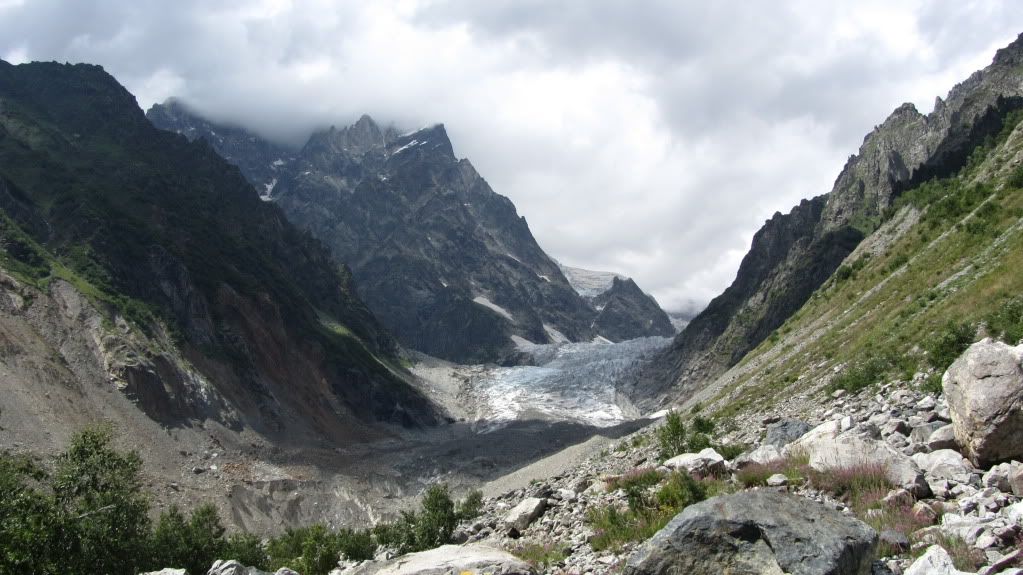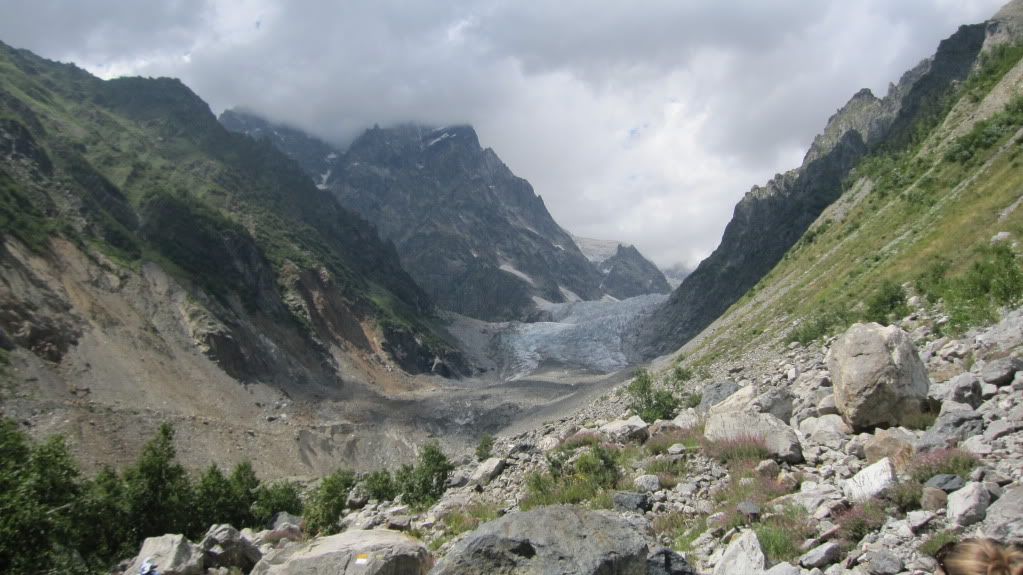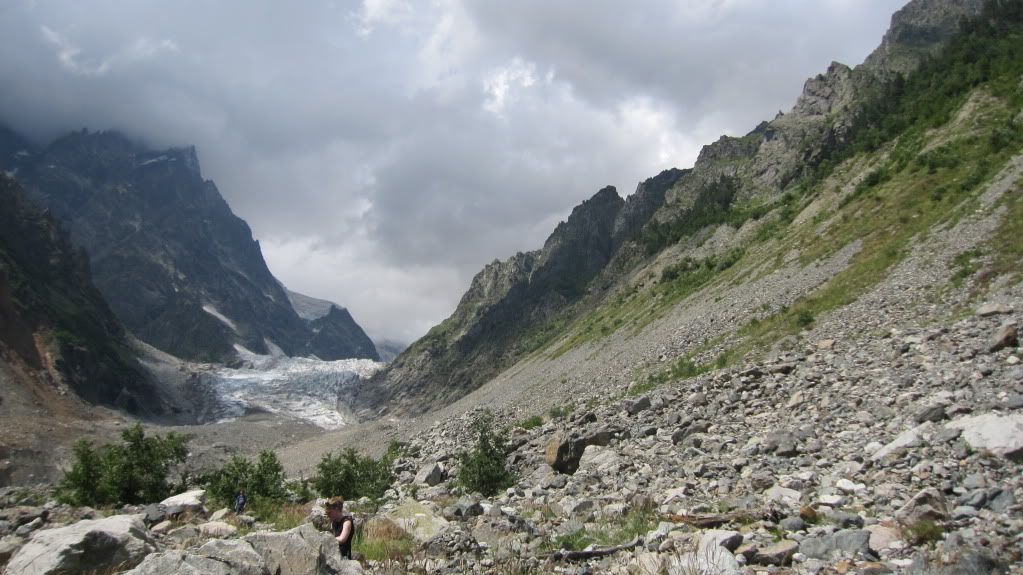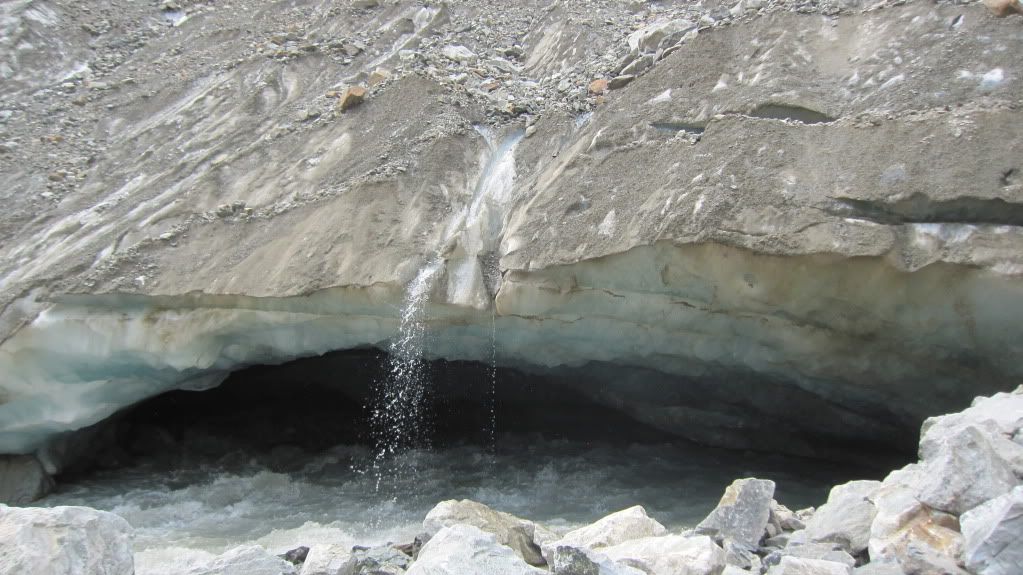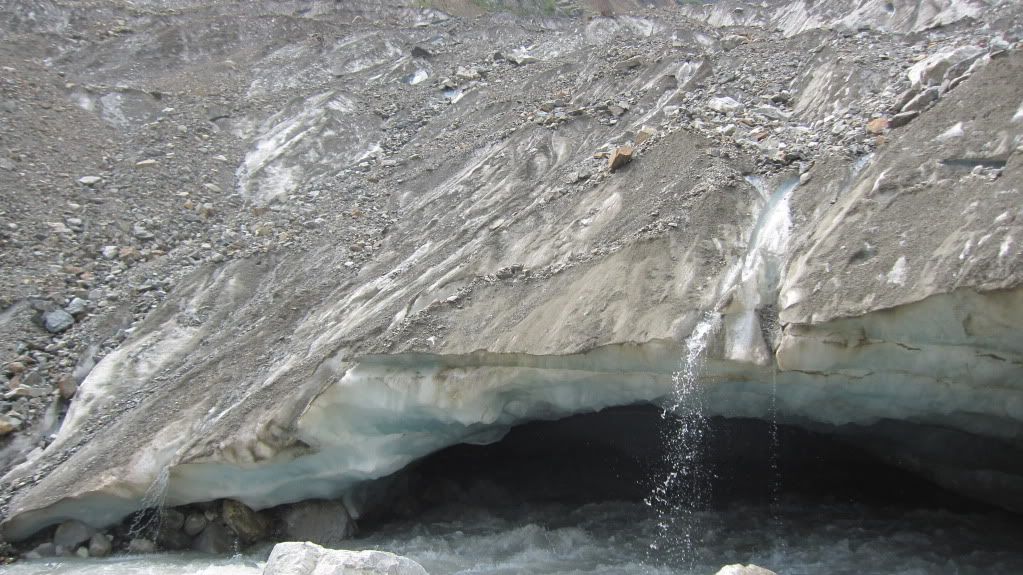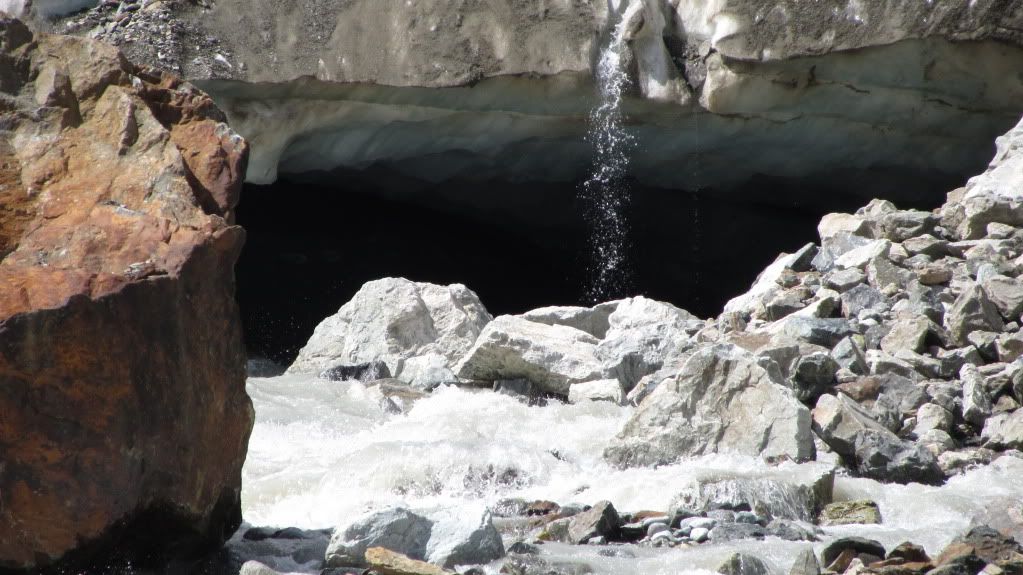 ...a well-deserved rest: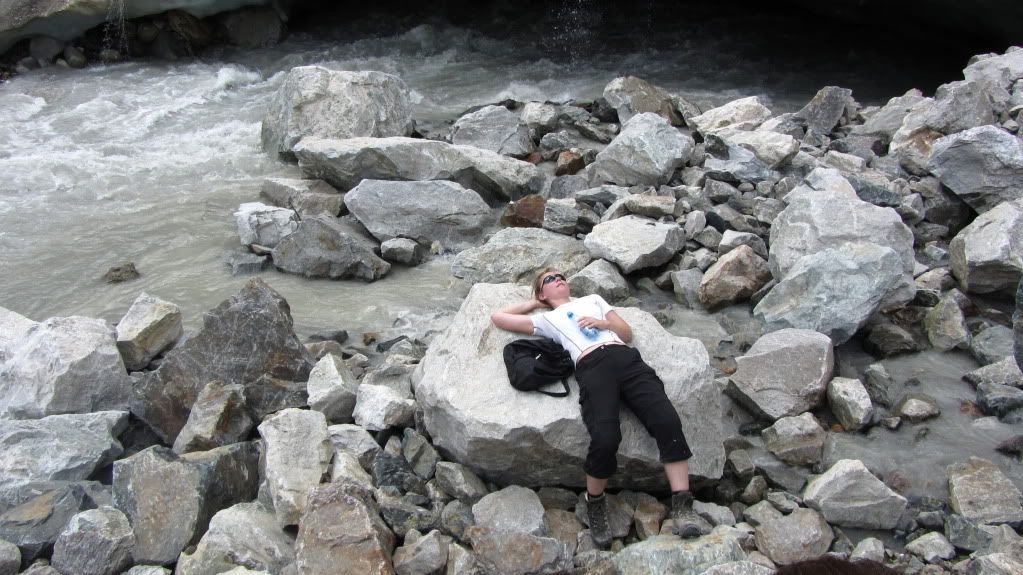 We walked to the glacier from Mestia, a large-ish town in Upper Svaneti, from whence we would later embark on our
four-day hiking tour through the mountains
.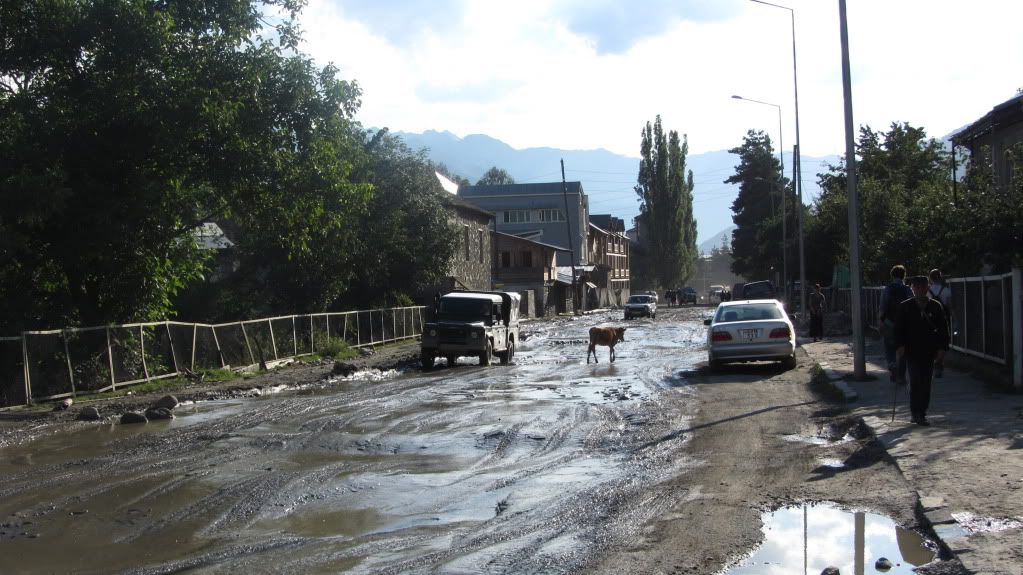 The main road in Mestia.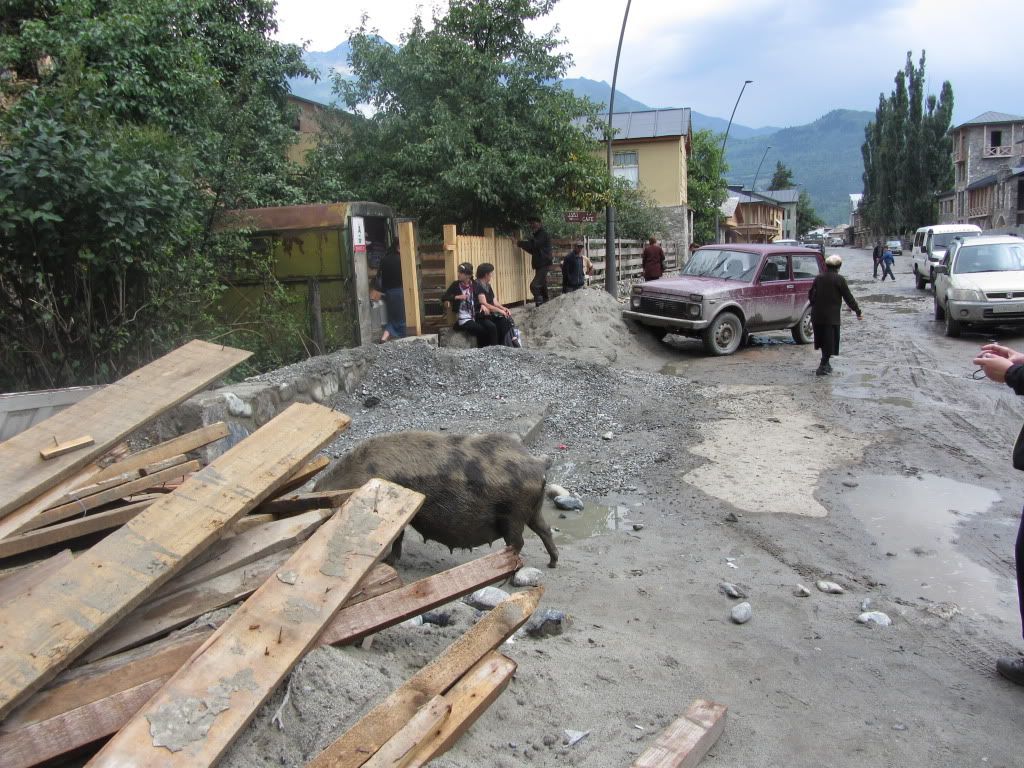 Rush hour traffic in Mestia. In the foreground: a privileged citizen, foraging.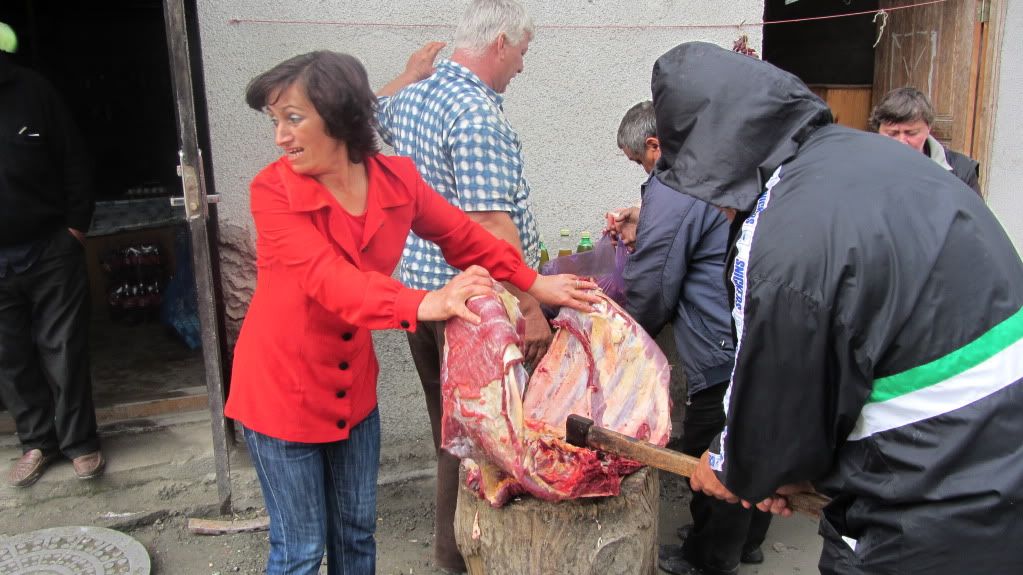 A formerly privileged citizen, being butchered in the main town square. Note the classic hooded look of the axe-wielding executioner.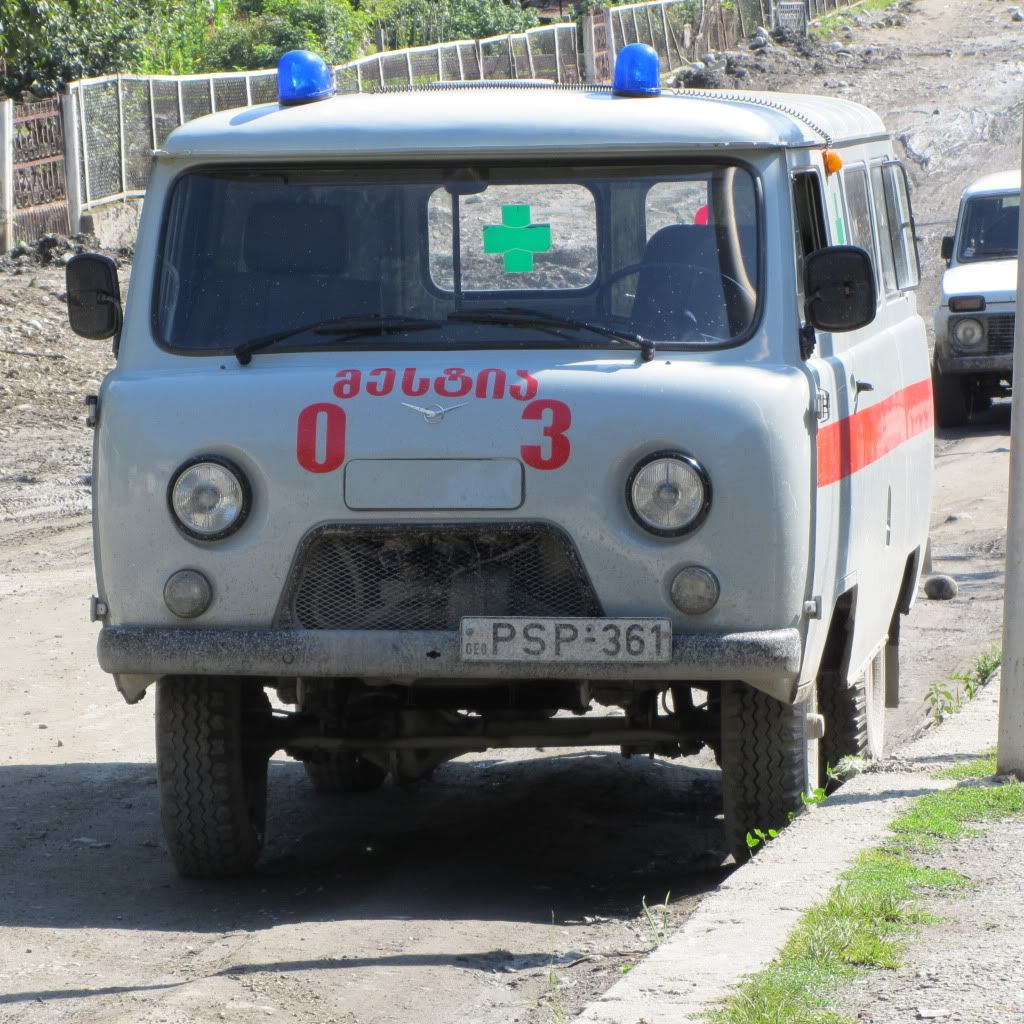 Local ambulance.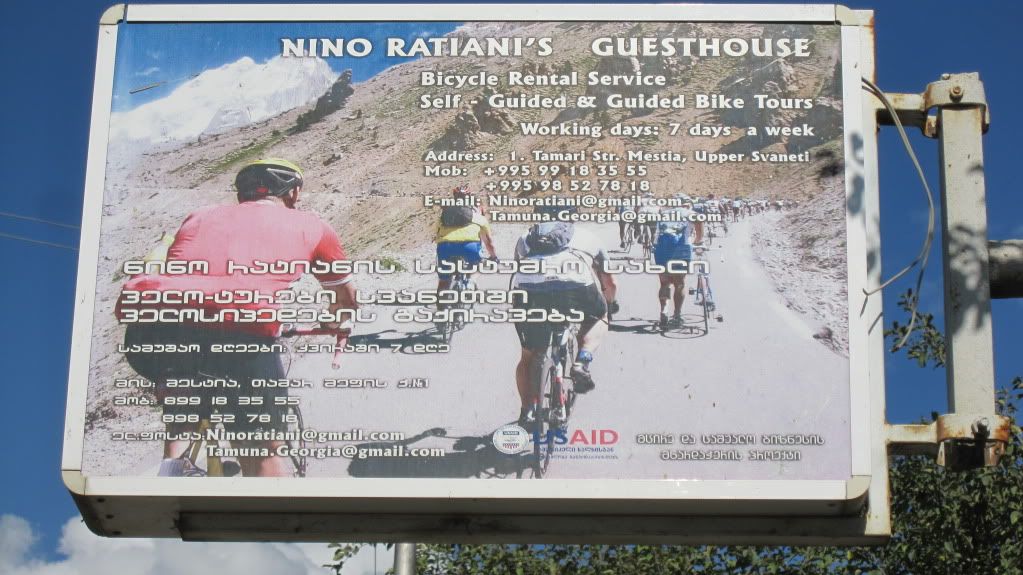 We stayed at the most excellent guesthouse run by a very efficient lady, Nino Ratiani, whose name is well known all over Svaneti. Observe the correct use of the apostrophe!
Our travels in the mountains were conducted by all manner of vehicles:
A Soviet jeep: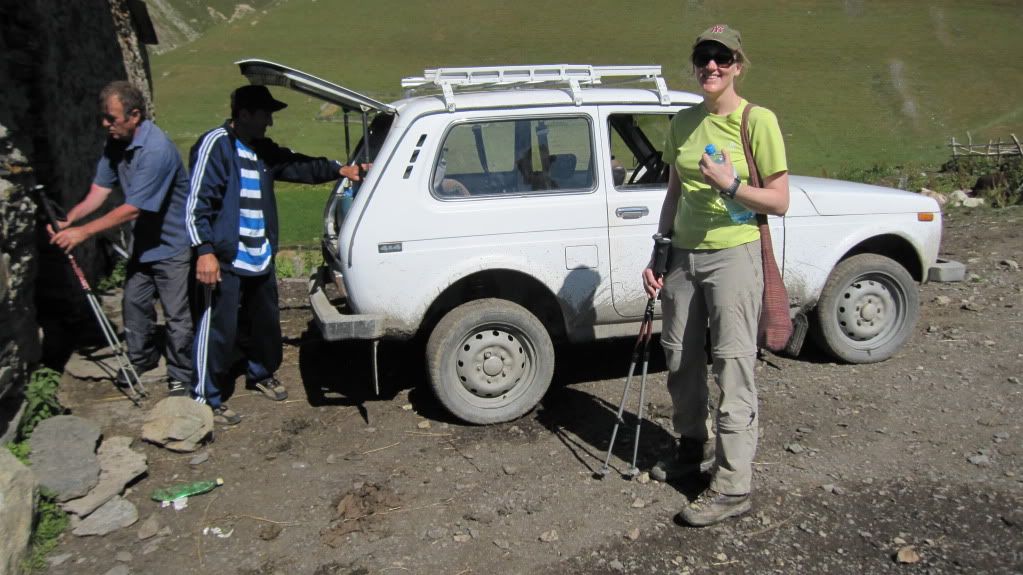 The bed of a police pick-up truck: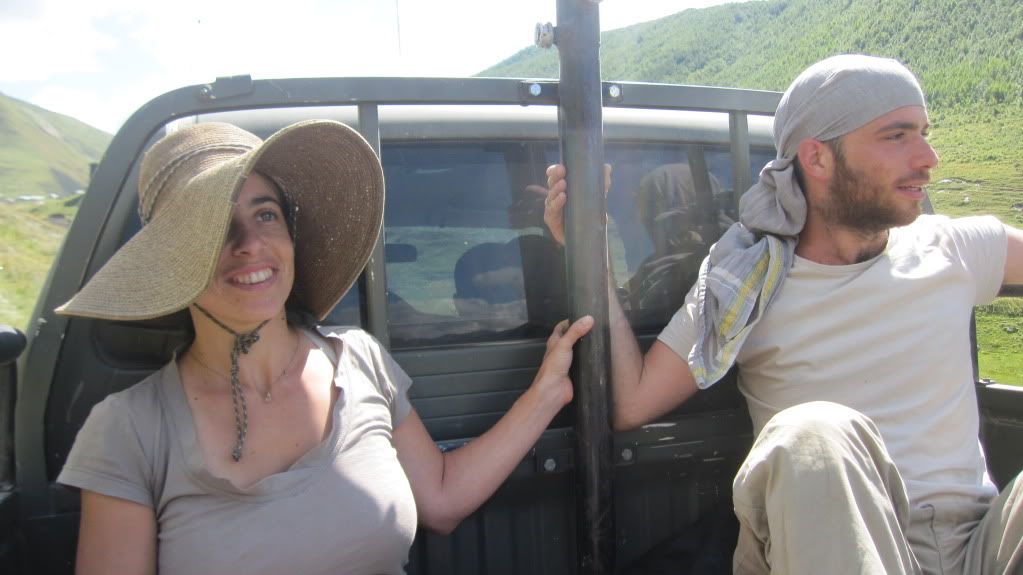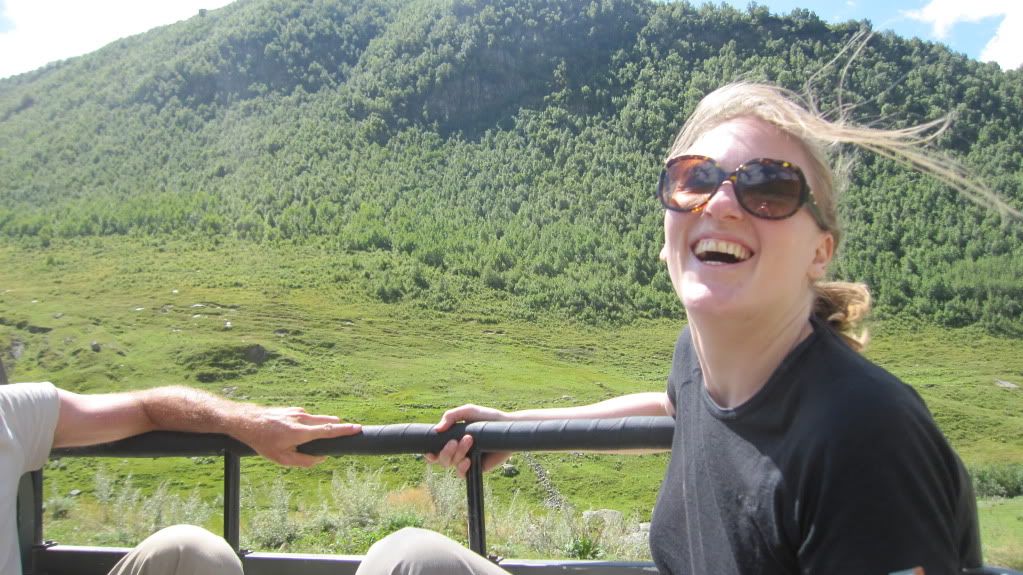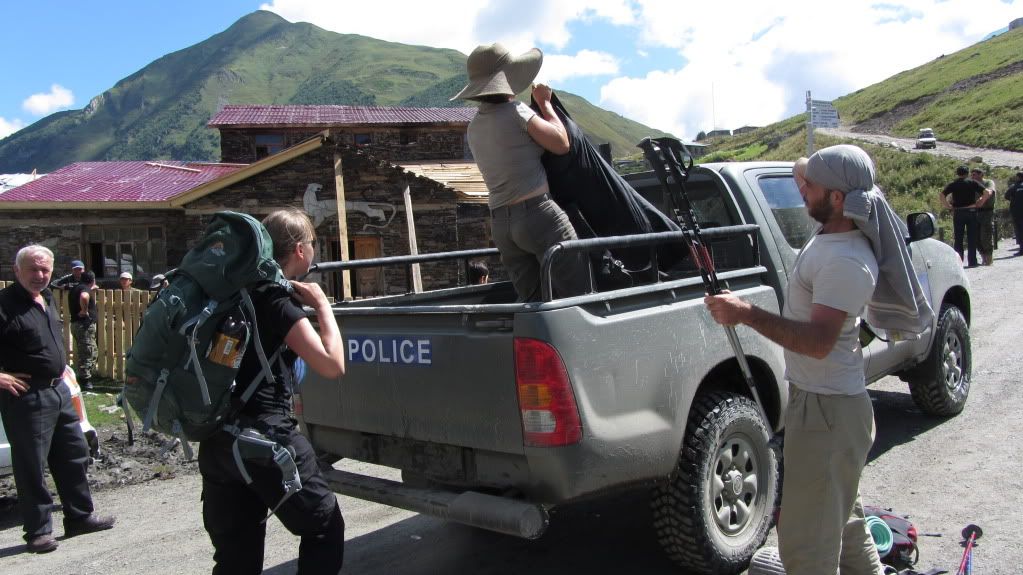 HORSIES!
Our noble steeds. We hired them for the day when the track required us to cross a glacial river.
After a 6-hour ride, I found that I felt absolutely fine; no aches and pains, no sore muscles on the next day. It seems that, after my
emergency riding lesson
, I have become an accomplished horsewoman. Bring on the horse trekking in Mongolia!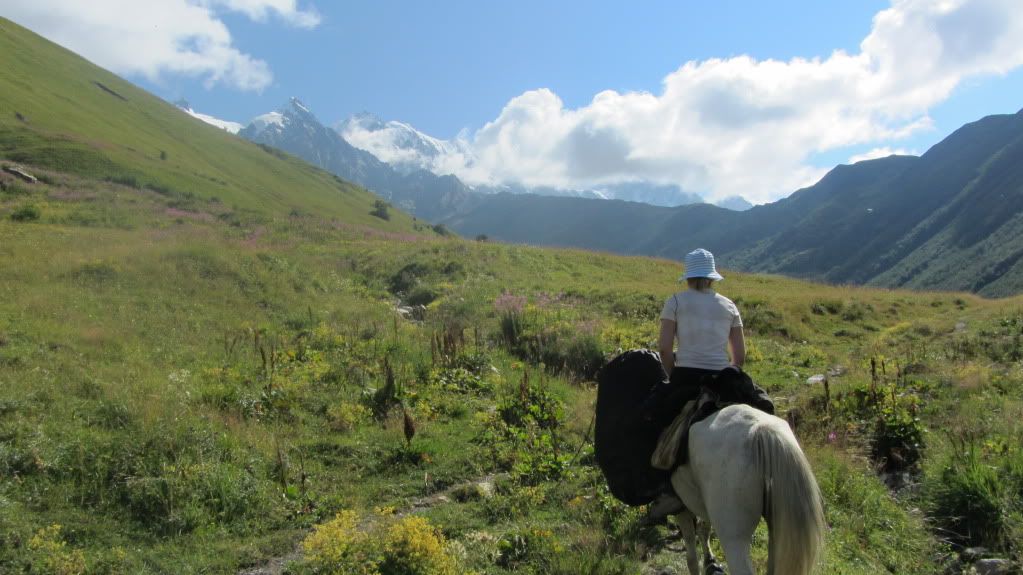 Pictured: Accomplished horsewoman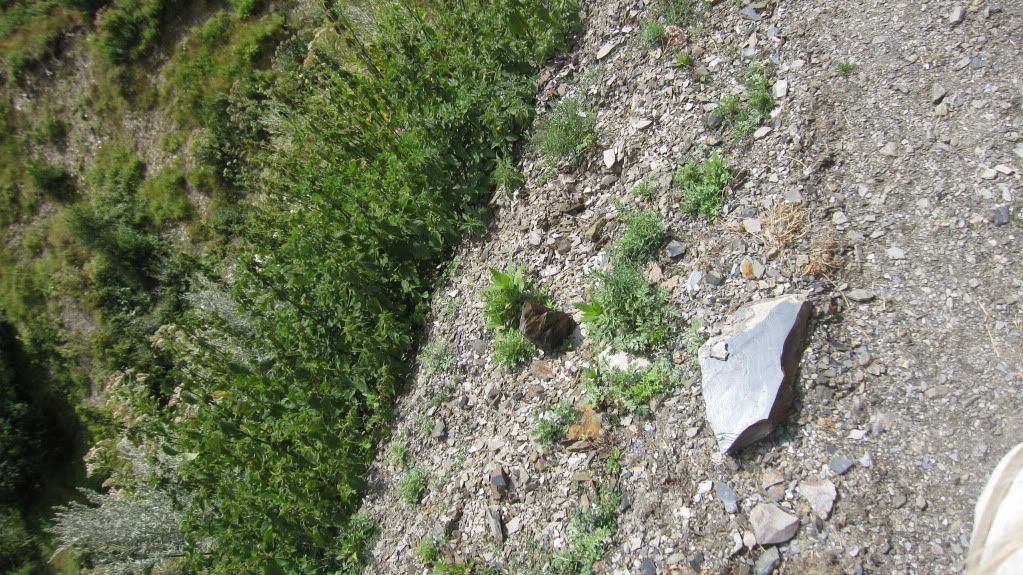 View from the horsie's back. This is not an odd camera angle: it's a genuine abyss.
And of course, we were fortunate enough to get a lift in a genuine, old-school
machena
: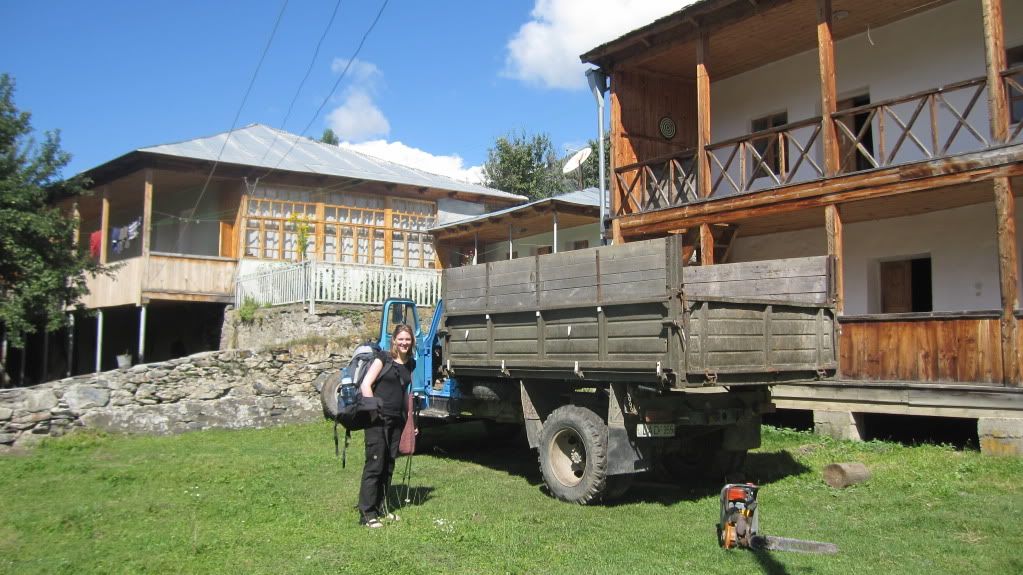 Our
machena
's high-tech console: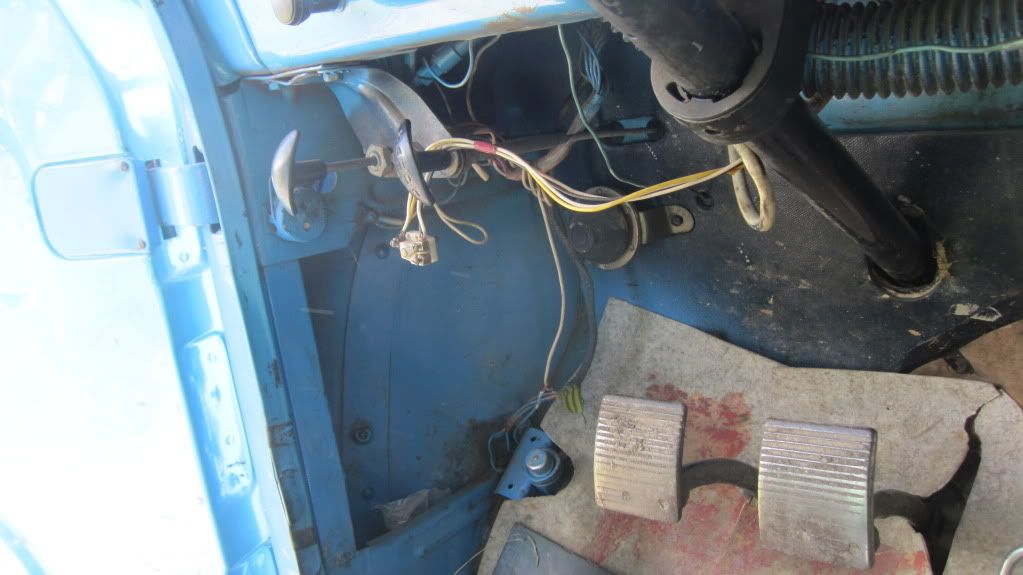 The dangling cables on the left are an essential part of the control panel: to start the engine, our driver hot-wired the car by applying a pair of pliers to the lustre terminal. Often successfully.
However, even the most advanced of
machenas
has to take a breather every now and then.
And perhaps a spot of engine oil?
Mostly, however, it worked.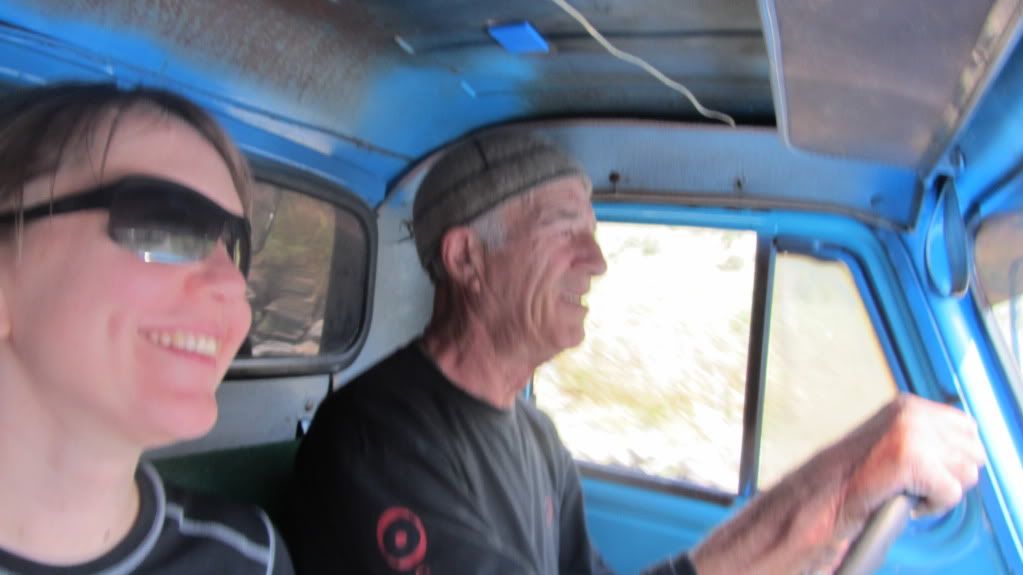 "It's one and a half hours to Adishi, we got an empty tank of gas, a chainsaw in the back, it's sunny, and one of us is wearing sunglasses."

"Hit it."